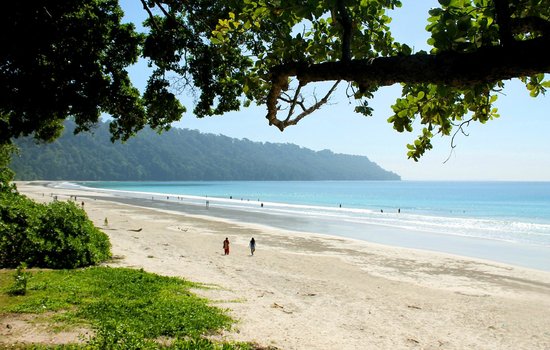 Radhanagar Beach – Andaman & Nicobar
The Radhanagar Beach rated as the "7th best beach in the world" by the famous Time magazine is located in the Andaman and Nicobar Islands. This pristine and extremely picturesque beach is situated on the Havelock Island and, is renowned for its crystal clear water and beautiful curves of white sand. Additionally, it is also surrounded by beautiful lush green forests consisting of palm trees. So if you want to relax away from the "hustle and bustle" of modern day city life in a tranquil filled environment then, this beach is an ideal destination.
Read More: Top 10 Must Visit Beaches in Andaman and Nicobar
How to get there Radhanagar Beach:
 By Air:
The nearest airport to this beach is located in Port Blair. The Port Blair Airport is well connected to major cities like Mumbai. Additionally, from Port Blair Airport a seaplane service provided by Pawan Hans to Havelock Island is available. This service is operational four days a week i.e. Monday, Wednesday, Thursday, and Saturday.
By water:
Air conditioned Catamaran Ferry services are available from Port Blair to Havelock Island. That includes private as well government Catamaran services. The difference being the duration of travel (i.e. 1.5 hours by private service to 2.5 hours by government service)
Climate and the best time to visit Radhanagar Beach:
The summer months beginning in March and ending in May is hot but bearable with the temperature ranging from a minimum of 28 degree Celsius to a maximum or 30 degree Celsius. The monsoon that begins in June ends in September brings heavy rainfall along with thunderstorms and, is usually not an ideal time to visit.  The winter season which begins in October and ends in February is usually "cool and pleasant" with the temperatures ranging from a minimum of 15 degree Celsius to a maximum of 34 degree Celsius. The best time to visit this beach being from October to April since the climate is ideally suited for you to enjoy the variety of water sports activities available.
Things/activities to do:
This beach is renowned for water sports activities and possesses a water sports centre that provides for activities such as snorkelling, scuba diving etc. This beach also boasts of some of the best diving centres in the country. Additionally, there are a number of shacks and restaurant that provide for quality food especially sea food. One popular restaurant located near the beach is called White Sands. This restaurant provides for delightful Italian cuisine.
Word of caution:
Although, this beach is normally safe for swimming there have been reports of salt water crocodiles attacking humans. Hence tourists must follow warnings usually issued by the forest department. In addition, the intensity of the sea waves increases after sunset and, so it is advised to stay out of the water during this period.
Also Read: 10 most picturesque Indian Beaches
[amazon_link asins='8183221114,9386832070,0340693258' template='ProductGrid' store='beachesofindia-21' marketplace='IN' link_id='937b7afd-e89e-11e8-a6b1-9d9a01b3e29b']