Top 5 Beaches Around Thane
These 5 beaches are worth a visit for Thane dwellers. Though you are spoilt for choice when it comes to beaches on the Maharashtra coastline, these 5 picks are all worth a decco. In addition to beaches, there are also a number of popular weekend getaways like hill stations, forts and pilgrimages located close to Thane & Mumbai. Without much ado, here are the five top beaches to visit:
1. Shriwardhan Harihareshwar Beach: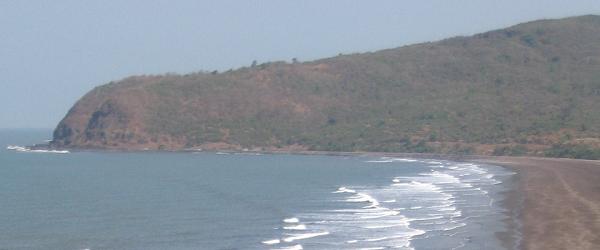 Shriwardhan Harihareshwar Beach Map
Harihareshwar beach located in the Konkan region is known for its quaint and serene surroundings. This place is a double bonanza for tourists in the sense that it is a temple town housing the ancient Harihareshwar temple of Lord Shiva and boasts of two beaches, both over 2 kms long. It is also popular for a number of restaurants that serve up delicious seafood delicacies such as crabs, lobsters etc and there are good options available for pure veg tourists. Furthermore, due to its tranquil environment, this beach proves to be an ideal spot for activities such as sun bathing, beach walking, yoga, and meditation. In addition, there are some good resorts near the beach like the MTDC Beach Resort Harihareshwar, Om Shree Bed and Breakfast and Harihareshwar Beach Resort
2.  Kashid Beach:

Kashid Beach Map
It is for a beautiful landscape which is known for its 'soft golden sand' or white sand unlike the other nearby beaches with black or dark sand. This beach is located at a distance of 30 kms from Alibaug and is a popular destination for families, corporates, bachelors and college students. Furthermore, this beach also provides for adrenaline pumping water-sport activities. With quite a few home-stays and resorts in the vicinity and the proximity to Alibaug and Murud, this is a great weekend getaway for Thane folks. Some good resorts and home-stays in the vicinity are Prakruti Resort, Kashid Beach Resort, Nisarg Tourist Home, SV Inns Sai Palace – a Sea View Homestay and Sarve Huts
3.  Ganpatipule Beach:

Ganpatipule Beach Map
'Scenic' is a word that best describe this beach located in the Ratnagiri district. It is surrounded by sparkling blue sea water, swaying palms, mangroves, and clean air. Furthermore,  it is considered to be one of the 'best beaches in Maharashtra'. In addition, a Lord Ganesh temple known as 'Swayambhu' situated in close proximity to this beach is extremely popular and attracts a large number of devotees annually. It is therefore the 'tranquil and pristine' atmosphere surrounding this beach which makes it an ideal weekend getaway for people in Thane.
4. Bordi Beach:

Bordi Beach Map
This is a beach situated at a distance of 145 km from Mumbai city, and is famous for 'chickoo' orchards. It is renowned for  activities such as gliding, trekking, kite flying etc. In close proximity to this beach lies a cave known as Bahrot, which is a pilgrimage site of the Zoroastrian community. Above all though, it is this pristine environment surrounding this beach makes it an ideal weekend getaway from Thane.
5. Gorai Beach:

Gorai Beach Map
It is for magnificent views of 'sunrise and sunset' that this picturesque beach is renowned for. Furthermore, it is also famous for being host to vibrant night parties. In addition, to its natural beauty it is also known for a number of restaurants located in close proximity. It is therefore a pristine and tranquil atmosphere which makes this beach an ideal weekend getaway for people living in Thane.
Image credits : Wikipedia, Wikimedia Commons,
[amazon_link asins='8183221114,9386832070,0340693258' template='ProductGrid' store='beachesofindia-21' marketplace='IN' link_id='937b7afd-e89e-11e8-a6b1-9d9a01b3e29b']
Sorry, the comment form is closed at this time.