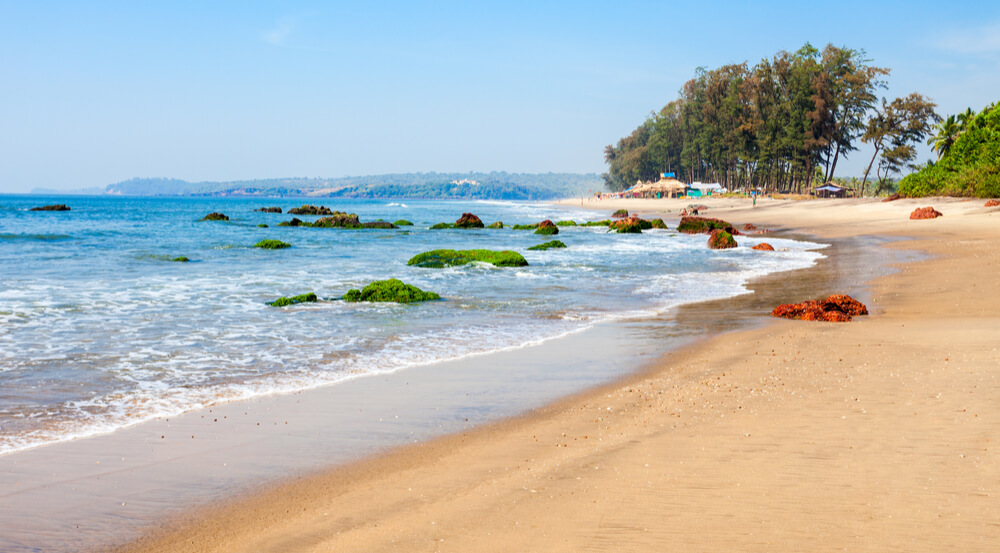 Querim Beach – Goa
Also known as "Keri" is a picturesque and pristine beach located in Goa known as Querim Beach. This beautiful beach is located on the southern bank of the River Terekhol. It is known for its scenic beauty and is surrounded by beautiful pine trees. In addition, the sea overlooking this beach is clear and extremely calm. Furthermore, this beach is located at a distance of 38 km from Mapusa and 50 km from Panaji.
Read More: Why are Goan Beaches so Popular?
How to Reach Querim Beach?
By train:
The nearest major Railway Station to this beach is located in Margao. The Margao Railway Station is well connected to major cities and towns in the country.
By road:
The ideal starting point to travel to this beach via road would be Panaji located at a distance of 43 km. There are two routes available from Panaji to Querim. They are as follows:
Via Querim-Arambhol-Agarwada Road
This route includes DB Marg, Rua De Ouerem, NH-66 which then connects to DulerMarnaSiolim Road, Querim-Arambhol-Agarwada Road, Querim-Tiracol, and then Querim beach.
      2. Via NH-66
This route includes DB Marg,Rua De Ourem, Virnoda-Nagzor, Querim-Arambhol-Agarwada Road, Querim-Tiracol, and finally to the Querim Beach.
      3. By air:
The closest airport is located in Dabolim. The Dabolim Airport is well connected to major cities and towns in the country.
Climate and the best time to visit Querim Beach 
The climate during the summers at this beach which begins in March and ends in May is extremely hot with mercury rising to about an average temperature of 35 degree Celsius. The rainfall received during the monsoon season which begins in June and ends in September. The winter which begins in December and ends in February is pleasant with the temperature ranging from a maximum of 28 degree Celsius to a minimum of 21 degree Celsius. So the ideal time to visit this beach is from December to February during the winter.
Things/activities to do in Querim Beach
Apart from the picturesque scenic beauty of this beach which needs to be enjoyed. This beach also provides for the perfect conditions for adventure sports such as Paragliding and Kite surfing. Although, these adventure sports will require strong winds, and hence will be dependent on the season. In addition, there exists several yoga practitioners located around this beach that offer courses in Yoga. Furthermore, a major tourist attraction located around this beach is as follows:
Terekhol Fort:
The Terekhol Fort built by the Portuguese is extremely popular in this area. In addition, this fort also provides for a scenic view of the entire Querim Beach.
Word of Caution
The sea located in this beach is not entirely safe, and hence the lifeguards have demarcated an area with Red and Yellow flags. It is only between the Red and Yellow flags that swimming can be carried out. In addition, this beach has also been reported for crimes such as robbery, and so tourists who intend to visit this beach must be on guard. If in case a tourist happens to become a victim of any form of crime then the incident must be immediately reported at the nearest police station as soon as is possible.
Also Read: Few Essential Facts about Goa Beaches
[amazon_link asins='8183221114,9386832070,0340693258' template='ProductGrid' store='beachesofindia-21' marketplace='IN' link_id='937b7afd-e89e-11e8-a6b1-9d9a01b3e29b']