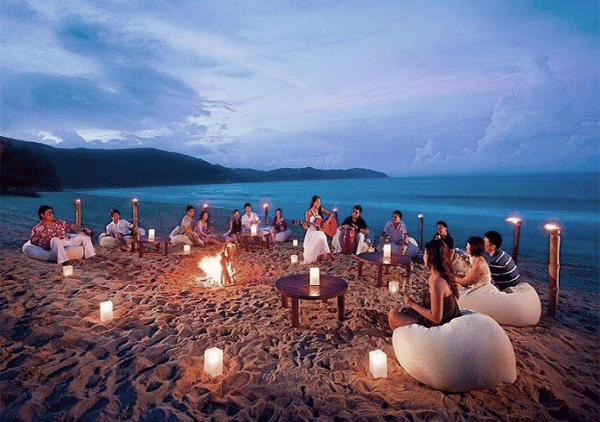 Why are Goan Beaches so Popular?
Goa is the undisputed No.1 tourist beach destination of all the vast expanse of the Indian coastline. There are many reasons why Goa is the hottest of all destinations. Here is explaining the key reasons contributing to the popularity of 'Goan' beaches.
Read More: Few Essential Facts about Goa Beaches
a. Its the 'sun and sand':
'Sun and pristine sand' is what most of the beaches in Goa are known for. Goa has an average maximum and minimum temperature of 33 and 25 degree Celsius respectively, clearly indicates that the climate is ideally suited for having a great time at the beach. Since this state is situated alongside the Arabian Sea on the western coast of India, the humidity levels are mostly high. It is this high level of moisture in the atmosphere which causes perspiration that makes these beaches in Goa really popular particularly with international tourists. Since many tourists arrive from countries with much colder climate they love basking in the sun and reveling in the spirit of Goan tranquility.
b. The 'water sports' activities at the Goan beaches:
'An adventure junkie's paradise' is what most of the beaches in Goa can be described as. The major reason for calling it so, is simply because of the plethora of quality water sport activities that are available. So, be it jet skiing, banana boat rides, parasailing, kayaking or wind surfing, the beaches in this small state located on the western coast of India provides them all. And since, many of the tourists including domestic and international tourists are big adrenaline junkies, the beaches in Goa cater to these adventurous zealots perfectly well.
c. The 'Beach Shacks' at the Goan Beaches known for great local seafood cuisine and alcohol:
'Local seafood and cuisine' is what shacks and restaurants in most beaches in Goa are renowned for. Additionally, they also provide for a wide range of alcoholic beverages. In terms of food particularly sea cuisine, these eateries located in most beaches within the state provide for a large variety in fish species which includes lobsters, pompfret, king fish, prawns etc. The most popular delicacy being the local fish curry (cooked in coconut) served along with rice. Other popular delicacies include a pork dish known as "sorpotel".  The drinks provided at shacks as well restaurants on most beaches in the state include beer, vodka, gin, whisky, and rum, and these include a mix of international as well domestic brands. In addition, a local alcoholic beverage known as "Feni" are served at most of these shacks and restaurants. And so, it is the delicious seafood oriented cuisine and wide range of alcoholic beverages served at these eateries at reasonable costs that also plays a major role in popularizing Goan beaches throughout India.
d. The exciting "nightlife" available at many Goan Beaches:
A lot of  young tourists (international and domestic) look to explore the 'nightlife' in Goa and there are many well known pubs and joints which offer the best of party experience. For example, the famous Tito's situated at the Baga Beach in North Goa is extremely popular and even attracts many Bollywood celebrities.  There is another club located at the Palolem Beach in South Goa known as 'Silent Noise', in which the music is played on a wireless headphone which is provided by the joint. In addition, there are number of 'rave parties' that are organized on many beaches in Goa that include Anjuna, Vagator, Morjim, Ashwem, and Arambol. And therefore, it is the exciting 'nightlife'  available at many of the Goan Beaches, which makes them extremely popular throughout the country.
e. The wide range of "Accommodation" and "Travel" options available at most Goan Beaches:
A variety of accommodation options are available at most of the beaches in Goa. So, be it a five star hotel or a reasonably priced guest house, you can find them all. In terms of travel too, there are plenty of options available around most of the beaches in this small state situated on the western coast of India. The most cheapest and convenient form of transport service being the rental scooter/bike services. For example, the cost for hiring a bike depending on the brand ranges from a minimum of Rs 250 a day to a maximum of Rs 900. During the peak season (i.e. from December to February) however the cost rises to a minimum of Rs 400 and a maximum of Rs 1200 a day. In addition, a service known as "pilot" can also be found around a few beaches. This service basically involves a bike rider dropping a tourist at his/her destination. This cost of this ride is generally about Rs 500. Furthermore, taxi services are also available around most beaches in the state. The only issue with this transport service being that there is no fixed price, and so the tourist has to bargain for an agreeable price with the driver. Thus, it is the variety of accommodation and travel options that surrounds most Goan Beaches which makes them extremely popular in India.
So, to sum up the reasons why Goan Beaches are most popular in India, it would be fair to say that it is a combination of factors such as sun and sand, a rocking nightlife, variety in accommodation and travel, and shacks/restaurants that provide for delicious food and drinks, is what eventually makes them extremely popular with majority of the tourists that visit India.
Also Read: Essentials to carry to a beach destination

[amazon_link asins='8183221114,9386832070,0340693258' template='ProductGrid' store='beachesofindia-21' marketplace='IN' link_id='937b7afd-e89e-11e8-a6b1-9d9a01b3e29b']
Sorry, the comment form is closed at this time.