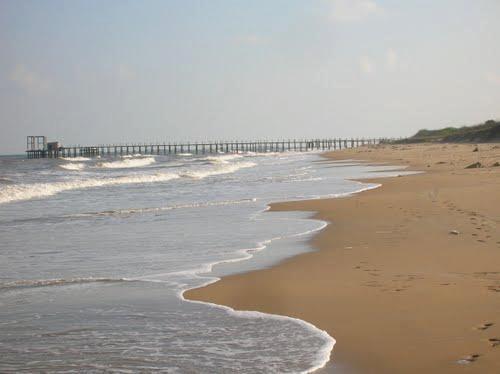 Jallandhar Beach – Diu
Jallandhar Beach located in Diu, and is popular for its genuine beauty and tranquillity. This beach has been named after a mythological demon "Jalandhar" who was killed by Lord Krishna. It is renowned for its picturesque beauty and tranquillity. In addition, apart from its natural beauty and serenity, this beach is also popular for water sports. Furthermore, a splendid natural aquarium and temple devoted to Goddess Chandrika is located in close proximity to this beach.
Read More: Why is Dumas beach considered a haunted beach?
How to Reach the Jallandhar Beach
By train:
The nearest railway station to the beach (since Diu does not possess its own station) is located in Veraval. The Veraval Railway Station is well connected to major stations such as Rajkot, Ahmedabad etc.
By road:
If you intend to travel to this beach then the ideal starting points would either be Surat, Vadodara or Rajkot.
Via Surat:
There is one route available via NH-51.
      2. Via Vadodara:
There are three routes available they are as follows, via GJ SH 6 and NH-51, via GJ SH 6, and via GJ SH 33.
      3. Via Rajkot:
There are three routes available NH-151 and NH-51, via GJ SH 90, and via Bhavnagar-Rajkot Road.
By air:
The nearest airport to the beach is the Diu Airport. This airport is well connected to major cities in the country such as Mumbai.
Climate and best time to visit Jallandhar Beach
The temperature during summers in Diu which begins in March and ends in July ranges from 30 to 38 degree Celsius. The monsoons are usually heavy and arrive in August and depart in October while, the winter that begins in November and ends in February is usually extremely cold with the mercury dropping to as low as 12 degree Celsius. The best time to visit this wonderful beach being the summer months of March to July since it is the ideal time to enjoy outdoor activities such as water sports.
Things/activities to do at the Jallandhar Beach
This picturesque beach located in Diu is well known for its pristine environment as well as for providing for water sports facilities. Swimming is also a common activity witnessed at this beach since the sea surrounding this beach is considered to be safe. A natural aquarium located in the vicinity of this beach is also a worth visit. In addition, a temple dedicated to Lord Chandrika located in close proximity is yet another tourist attraction.
Also Read:  Few vital facts about Indian Beaches
[amazon_link asins='8183221114,9386832070,0340693258' template='ProductGrid' store='beachesofindia-21' marketplace='IN' link_id='937b7afd-e89e-11e8-a6b1-9d9a01b3e29b']