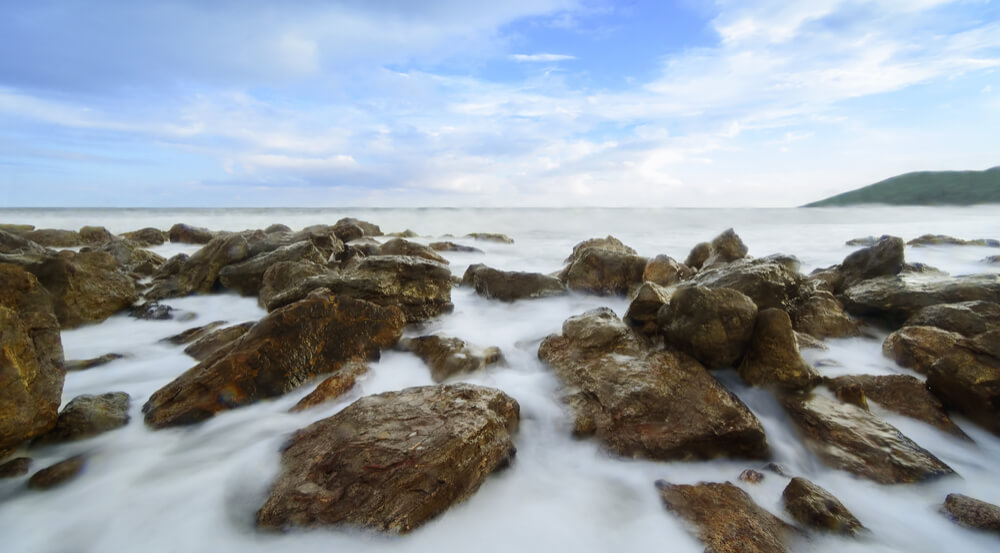 Yarada Beach – Andhra Pradesh
Considered to be one of the "calmest" beaches in Visakhapatnam, Andhra Pradesh is the Yarada Beach. This pristine beach is located in the west coast of the Bay of Bengal. Renowned for its scenic beauty this beach is located in close proximity to a spot named "Dolphin's nose". In addition, this beautiful beach is also surrounded by picturesque hills on three sides, and the Bay of Bengal from the fourth side.
Read More: 10 Popular Beaches in South India
How to Reach Yarada Beach?
By train:
The nearest railway station to the Yarada Beach is located in Visakhapatnam. The Visakhapatnam Railway Station is well connected to major cities and towns in the country.
By road:
If you intend to drive to this beach via road from Visakhapatnam then, there are three routes available.  The three routes are as follows:
Via Dolphin Hill Road-GajuwalaScindia Road
This route includes the Dolphin Hill Road, and the GajuwalaScindia Road and the journey takes about 27 minutes.
      2. Via Gajuwala-Scindia Road
This route includes Dolphin Hill Road, Visakhapatnam Port, Yarada Road, and Gajuwaka-Scindia Road.
      3. Via Gangavaram- Yarada Road
This route includes Gangavaram, Yarada Road, GajuwalaScindia Road, and Visakhapatnam Port.
Climate and the best time to visit Yarada Beach
The climate during the summers months which begins in March and ends in May is "extremely hot" with the mercury even rising to 42 degree Celsius during this period. The monsoon season which begins in June and ends in September receives "heavy" rainfall. The winters which arrives in December and ends in February are extremely "cool and pleasant" with the temperature ranging from a maximum of 32 degree Celsius and a minimum of 18 degree Celsius. So the ideal time to visit this beach is during the winters from December to February.
Things/activities to do in Yarada Beach
As this beach possesses an extremely serene,pristine, and secluded environment it serves as an ideal spot for tourists to relax in complete isolation. There are also a number of popular food stalls located on this beach that serve exotic local cuisines. The picturesque view of the rising and setting sun is also what makes this beach extremely popular with tourists especially those passionate about photography. Furthermore, there are also a number places located around this beach that must be visited. They are as follows:
Krishna Temple
The Krishna Temple is a popular Hindu shrine devoted to Lord Krishna located in close proximity to this beach. This temple is not only popular with locals but, also with tourists who travel from outside the state.
      2. Araku Valley
Araku Valley is a beautiful hill station located in the Eastern Ghats (in close proximity to this beach) that provide for magnificent views of the surrounding valleys, streams, and waterfalls. It is due to its scenic beauty that it is a major tourist attraction.
     3. Borra Caves
The Borra Caves is yet another site located in close proximity to this beach, and is renowned for possessing karstic limestone structures. These caves are considered to be among the largest in India, and were first discovered by William George in 1807.
     4. Bhavikonda Buddhist Complex
Literally meaning "Hill of Wells" the Bhavikonda Buddhist Complex is a popular monastery located in close proximity to this beach that was established in the 3rd century.
Also Read:  2 Reasons Why Marina Beach is a "Foodie Paradise"      
[amazon_link asins='8183221114,9386832070,0340693258' template='ProductGrid' store='beachesofindia-21' marketplace='IN' link_id='937b7afd-e89e-11e8-a6b1-9d9a01b3e29b']