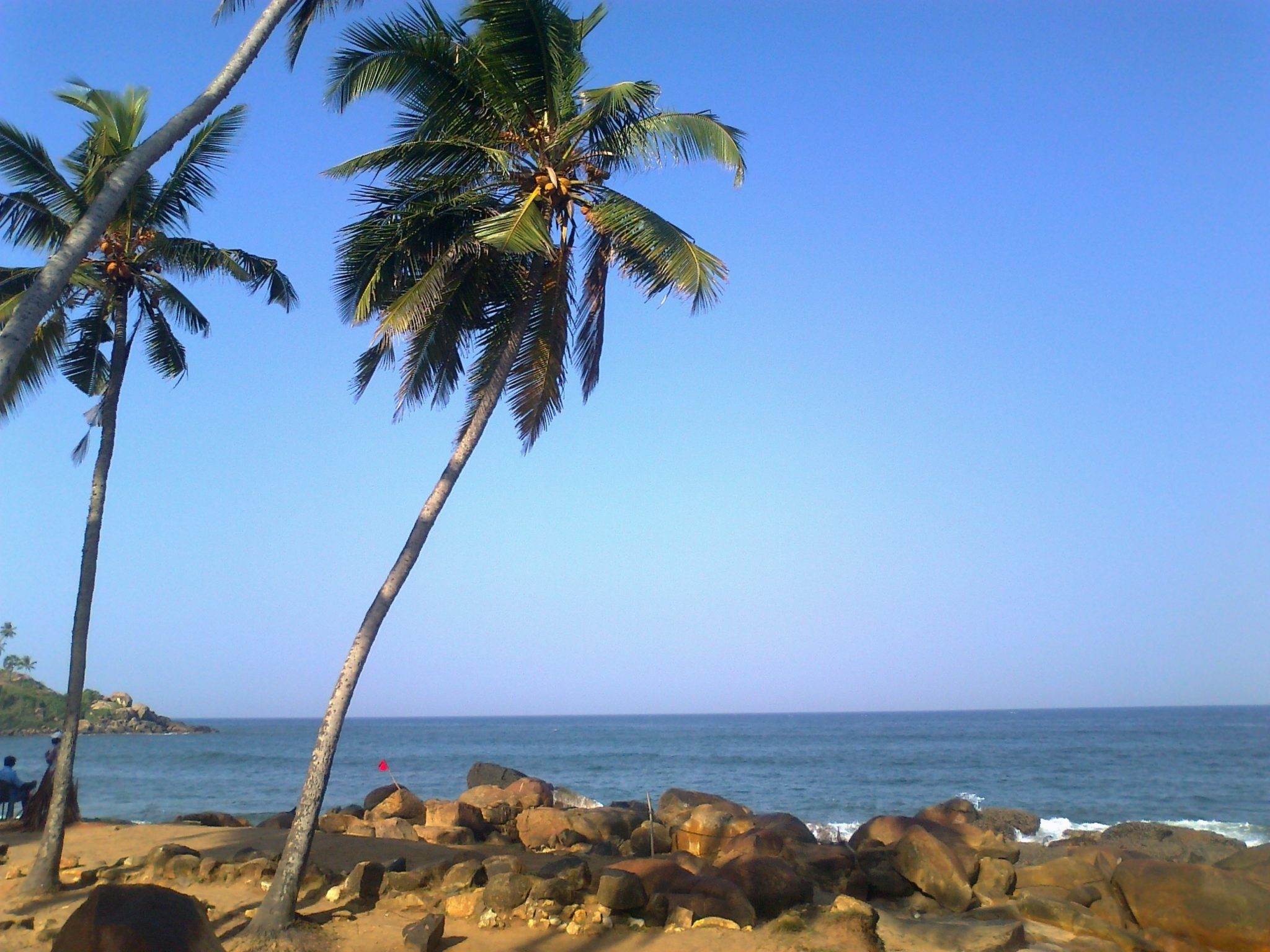 5 Top Beaches in Kerala
'God's Own Country' is what the beautiful South Indian state Kerala is referred to as. Now, this state is renowned not only for its picturesque environment but also, popular for tourist spots such as hill stations and beaches. With Kerala lying alongside the western coast of India adjacent to the Arabian Sea, it is obvious that this state comprises of a number of beautiful beaches. The question that then arises is, what are the best Beaches in Kerala? Here is then presenting an exclusive list of 'Top 5 Beaches' in the state that is known for its beautiful 'backwaters'.
a. Kovalam Beach:
Kovalam Map
'Golden coloured crescent shaped sand' is what the pristine and picturesque Kovalam Beach is known for. Located at a distance of 10 km from the city of Thiruvananthapuram, this beach is extremely popular and attracts a large number of tourists. It surrounded by beautiful coconut trees, and the magnificent sight of the adjacent Arabian Sea. Furthermore, the Lighthouse Beach and the Samudra Beach are situated in close proximity.
b. Varkala Beach:
Varkala Beach
Considered to be the 'most photographed' in Kerala is the Varkala Beach. It is located in the Thiruvananthapuram district, and is renowned for its pristine surroundings as well as for its picturesque rocky coastline. Furthermore, it attracts a large number of tourists on an annual basis. Around this beach a 2000- year-old popular temple Sree Janardhana Swamy . In addition, a renowned nature care center is located in close proximity to this is also very popular.
c. Kozhikode Beach:
Kozhikode Beach Map
'Amazing sunset views' is what the Kozhikode Beach is renowned for. Historically speaking, this beach is significant because it was over that Portuguese explorer Vasco Da Gama in search of spice for the first time landed in India. Furthermore, this beach is popular for its picturesque beauty and overall serenity, and hence attracts lots of tourists.
d. Payyambalam Beach:
Payyambalam Beach Map
'Serene' is the one word that best describes the Payyambalam Beach. Situated in Kannur in North Kerala, this beach provides for magnificent views and the rising and setting of the sun. In addition, to the beauty surrounding this beach, a garden and a sculpture of mother and child is located in close proximity which attracts a large number of tourists. So, it is combination of pristine and picturesque beauty which makes Payyambalam one among top 5 Beaches in Kerala.
e. Bekal Beach:
Bekal Beach Map
'Coconut Trees' is what the beautiful Bekal Beach is surrounded by. Situated in the Kannur district, this beach is known for its pristine and scenic beauty. In addition, the famous Bekal Fort is located in close proximity to this beach which provides for magnificent views of the surrounding area. Thus it is the overall picturesque beauty of this beach which makes it one among top 5 Beaches in Kerala.
Image Credits: Flickr and Wikipedia
[amazon_link asins='8183221114,9386832070,0340693258' template='ProductGrid' store='beachesofindia-21' marketplace='IN' link_id='937b7afd-e89e-11e8-a6b1-9d9a01b3e29b']
Sorry, the comment form is closed at this time.