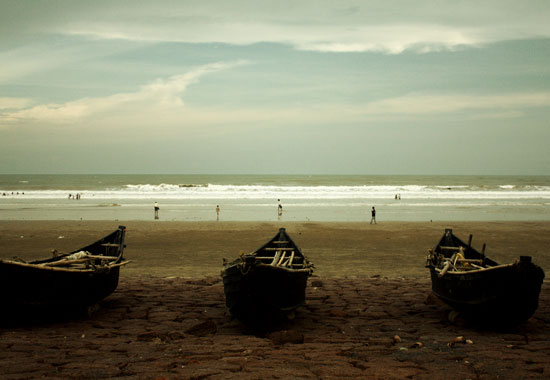 Junput Beach – West Bengal
Surrounded by beautiful Casuarinas is an extremely beautiful located in West Bengal called Junput Beach. This scenic beach is situated in the Purba Medinipur It is also renowned (apart from its scenic beauty) for its "tranquil" filled atmosphere. In addition, it is a relatively unexplored beach as compared to the Digha Beach. Furthermore, this beach is also home to a marine biology research museum and also consists of a farm that breeds ducks.
Read More: Olive Ridley Turtles And Odisha Beaches, Things You Need To Know
How to reach the Junput Beach
By train:
The nearest railway station to this beach is located in Digha. The Digha Railway Station is well connected to major cities on the South-Eastern Railway line.
By road:
If you intend to drive to this beach then the ideal starting points would be Bhubaneswar, Cuttack, Puri, Patna, and Kolkata.
 Via Bhubaneswar:
There is one route from Bhubaneswar to this beach, and it is via NH-16.
      2. Via Cuttack:
There is one route from Cuttack to this beach, and it is via NH-16.
      3. Via Puri:
There is one route from Puri to this beach, and it is via NH-16.
      4. Via Patna:
There are two routes from Patna to this beach, and they are via NH-19 and via NH-19 and NH-14.
      5. Via Kolkata:
There are two routes from Kolkata to this beach, and they are via NH-16 and ContaiNandakumarRoad and via Contai-Nandkumar Road.
By air:
The nearest airport is located in Kolkata. The Netaji Subhash Chandra Bose International Airport is well connected to major cities in the country as well as to international destinations.
Climate and the best time to visit the Junput Beach
The maximum temperature at this beach during the summer season which begins in March and ends in June is about 43 degree Celsius. The rainfall received during the monsoon season which begins in July and ends in September is "heavy". On the other hand the winter season which begins in December and ends in February is extremely pleasant with the temperature ranging from a maximum of 23 degree Celsius to a minimum of 12 degree Celsius. So the ideal time to visit this beach is from October to February during winter.
Things/activities to do
There are a couple of things/activities found around this beach worth exploring. They are as follows
Dariapur Lighthouse:
A renowned lighthouse called Dariapur is located at this beach. This lighthouse is 75 meters in height and provides for magnificent panoramic views of the surroundings, and hence is a must visit.
      2. Kapal Kundala Mandir:
An old Hindu temple called the Kapal Kundala is located at a distance of about 1 km from this beach. This temple must be visited not only for its historic relevance but also for the scenic beauty that surrounds it in the form of beautiful dense green forests.
      3. Marine Biology Museum:
A popular Marine Biology Museum established by the Fishery Department of the State of Bengal is located in close proximity to this beach. Furthermore, this museum comprises of snakes, variety of fishes etc found in the area. This museum is a definite must visit especially for those interested in marine biology.
Interesting Facts:
This beautiful beach known as Junput  is surrounded by beautiful casuarina trees, and also provides for beautiful sunrise and sunset.
Also Read: 6 Popular Beaches in East India
[amazon_link asins='8183221114,9386832070,0340693258' template='ProductGrid' store='beachesofindia-21' marketplace='IN' link_id='937b7afd-e89e-11e8-a6b1-9d9a01b3e29b']