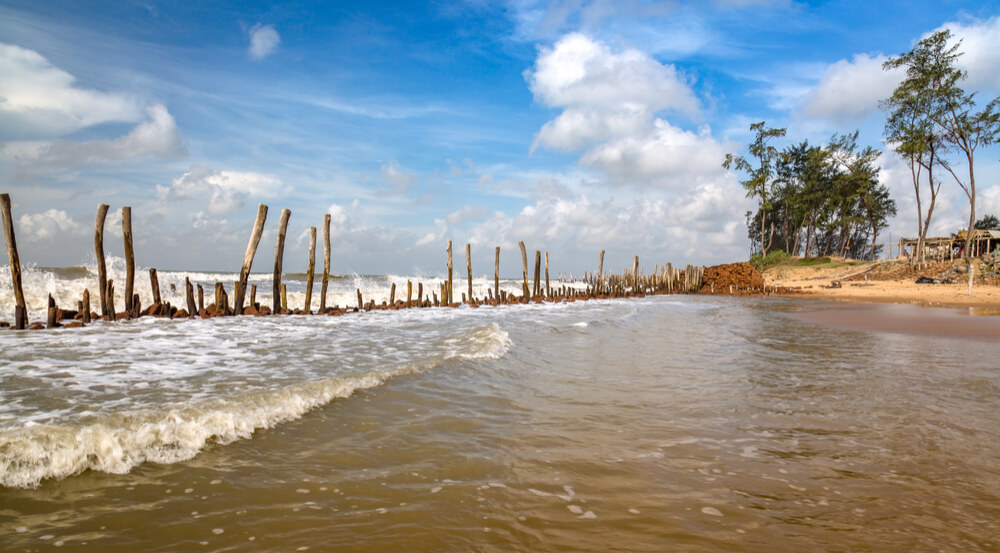 Tajpur Beach – West Bengal
Situated alongside the Bay of Bengal in close proximity to the Digha Beach (at a distance of 18.7 km via Balisai- Tajpur Sea Beach Rd and NH116B) is the scenic Tajpur Sea Beach. This beautiful beach is located in Purba Medinipur district in West Bengal. Apart from its scenic beauty this beach is renowned for being extremely "pristine". In addition, this beach is surrounded by beautiful dense forests and tamarisk trees. Furthermore, this beach also consists of beautiful casurina plantations with about 1400 acres of land being dedicated to Pisciculture.
How to reach Tajpur Sea Beach
Tajpur Beach Map
By train:
The nearest railway station to this beach is located in Digha. The Digha Railway Station is well connected to major cities on the South-Eastern Railway line.
By road:
If you intend to drive to this beach, some of the routes from Bhubaneswar, Cuttack, Puri, Patna, and Kolkata are described below:
a. How to reach Tajpur Beach from Bhubaneswar and Cuttack: The shortest route to reach Tajpur beach from Bhubaneswar is via NH-16 as depicted in the map above. Alternatively, click on the Google Maps link here to view on Google Maps.
b. How to reach Tajpur Beach from Kolkata: There fastest route from Kolkata to Tajpur beach via NH-16 and NH-116B passing through Kolahgat, Nandkumar and Contai and the route map is depicted above. Alternatively, click on the Google Maps link here to view on Google Maps.
c. How to reach Tajpur Beach from Puri: There is one route from Puri to this beach, and it is via NH-16.
d. How to reach Tajpur Beach from Patna: There are three routes from Patna to this beach, and they are via NH-19, via NH-22 and NH-19, and via NH-19 and NH-14.
By air:
The nearest airport is located in Kolkata. The NetajiSubhash Chandra Bose International Airport is well connected to major cities in the country as well as to international destinations.
Climate and the best time to visit the Tajpur Sea Beach
The climate at this beach during the summer season which begins in March and ends in June is extremely hot with the mercury rising to about 43 degree Celsius. The rainfall received during the monsoon season which begins in July and ends in September is "heavy". On the other hand the winter season which begins in December and ends in February is extremely pleasant with the temperature ranging from a maximum of 23 degree Celsius to a minimum of 12 degree Celsius. So the ideal time to visit this beach is from October to February during winter.
Things to do and Places To Visit Around Tajpur Sea Beach
Since this beach is secluded and as a result is unexplored there are not many things/activities to do found at this beach. Although its pristine natural beauty that includes casuarina grooves and the magnificent views of the rising and setting sun are certainly worth experiencing. In addition, in close proximity to this beach lie beautiful beaches such as Mandarmoni, Shankarpur, Dighaetc that are also worth visiting.
Accommodation – Hotels, Resorts and Home Stays in and around Tajpur Beach:
Click on the link here to check out the places to stay near Tajpur beach, West Bengal on Google Maps.
Also Read:  6 Popular Beaches in East India       
Image Credits: Wikimedia Commons
[amazon_link asins='8183221114,9386832070,0340693258' template='ProductGrid' store='beachesofindia-21' marketplace='IN' link_id='937b7afd-e89e-11e8-a6b1-9d9a01b3e29b']