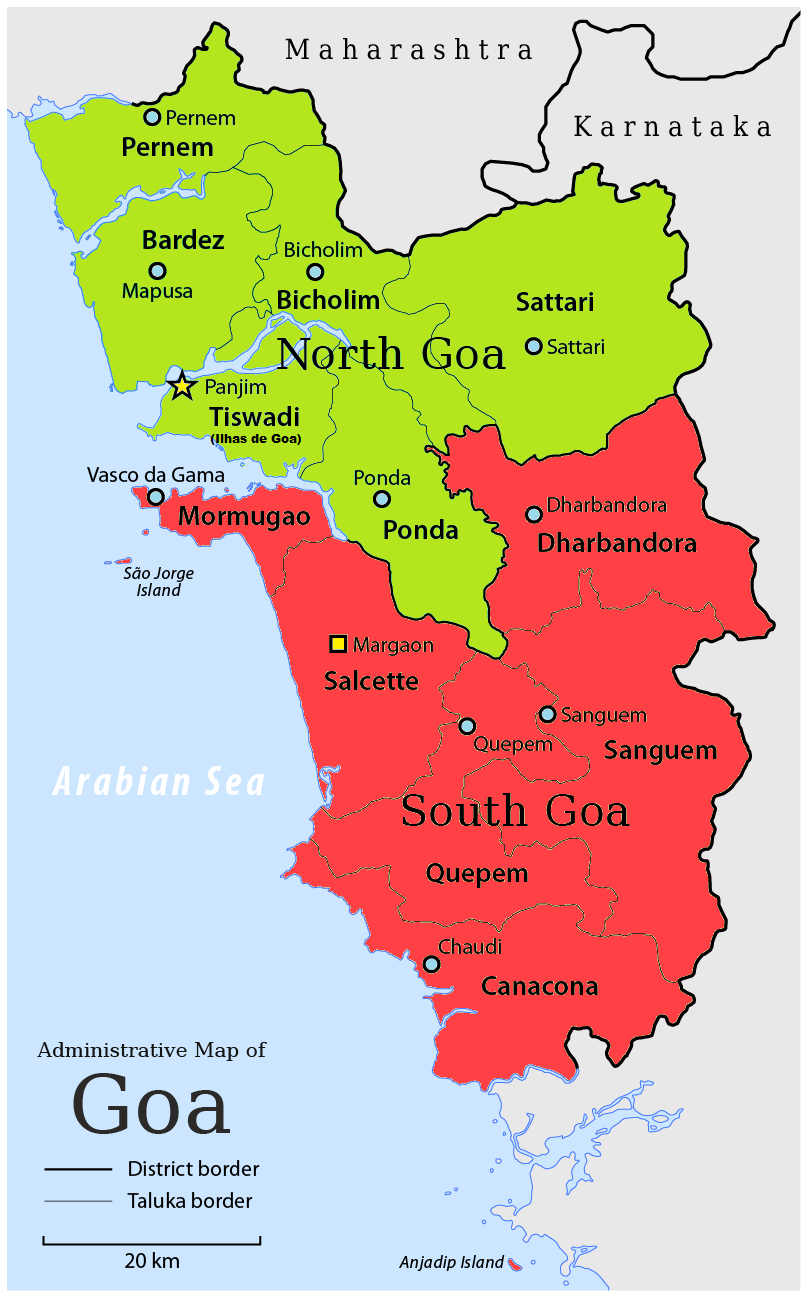 How South Goa Beaches Differ From Those In North Goa?
"Sun and Sand" is what Goa, a state located on the western coast of India is famous for. This is simply due to the fact that this Indian state comprises of number of beautiful beaches. These beaches are situated in the northern as well as the southern region of Goa. However, there are a number of differences that exists between beaches that are located in north to those situated in the south. So, here is presenting an analysis highlighting the differences between the North and South Goan beaches.
Read More: Why are Goan Beaches so Popular?
Goa Map
1. The difference in the 'environment' of the beaches situated in North and South Goa:
"Pristine and serene" would be the ideal way to describe the beaches located in South Goa. Comprising of clean golden sand and beautiful sea water, the South Goan beaches serves as ideal spot for those intending to relax in isolation. On the other hand, beaches in North Goa attract a large number of domestic and international tourists annually. It is due to the relatively high influx of tourists in the northern region that has resulted in beaches over here becoming more commercialized and abuzz with activity. In fact, the South Goan beaches are less visited in comparison to the north, and hence has managed to retain its pristine beauty and some of the beaches even give a feeling of private beaches with very few tourists.
2. The presence of a lot more 'water sport' activities at the beaches in North Goa in comparison to South Goa:
Now, over the years North Goa has been attracting a large number of tourists from India and around the globe which has resulted in its beaches becoming 'commercialized'.  It is this commercialization that has resulted in a number of 'water sport' activities being provided at the beaches in the north. In terms of  South Goa, since most of the beaches over here are located in an isolated area, they have not been discovered yet by tourists . And as a result of which, the South Goan beaches provide for few water sporting facilities.
3. The nightlife in North Goan beaches is far more lively than in South Goa:
"Vibrant" would be the best way to describe the nightlife that surrounds the North Goan beaches. It is obvious that with this region attracting a large number of tourists every year, that a number of pubs have sprouted over here. A few examples include Tito's Pub located at the Baga Beach and Club Cubana situated at the Calangute Beach. Meanwhile, since South Goan beaches do not attract a large number of tourists there are very few pubs/clubs located out here.
Having traveled to Goa, I can confidently state that my experience at both the north as well as south Goa beaches in terms of food and stay was terrific. The only difference (according to me) being that the beaches in the south are ideal for those who want to relax in presence of "sun and sand", while those in the north are for people who intend to have a "great time partying and experiencing adrenaline rushing water sports".
Also Read: SOME BUDGET ACCOMMODATIONS AROUND GOAN BEACHES
[amazon_link asins='8183221114,9386832070,0340693258' template='ProductGrid' store='beachesofindia-21' marketplace='IN' link_id='937b7afd-e89e-11e8-a6b1-9d9a01b3e29b']
Sorry, the comment form is closed at this time.