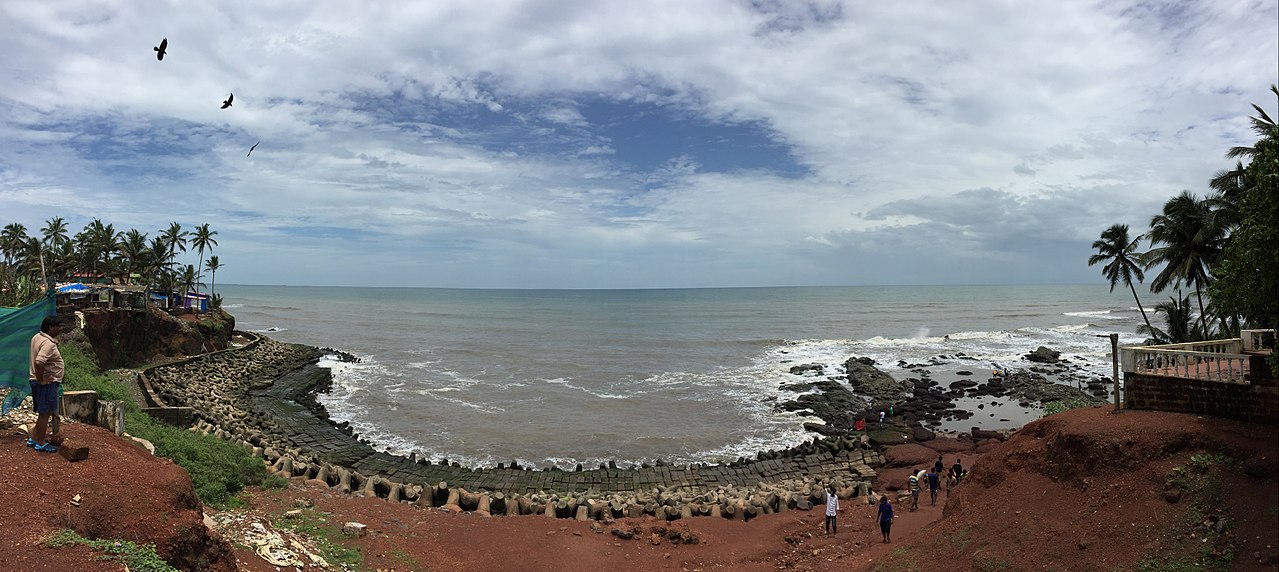 Goa Diaries 2017- Lots of "Fun under the Sun"
"Lots of fun under the sun, with some work done" would be the best way to describe my eight day backpacker trip to the beautiful beaches of Goa which began on the 23rd October and ended on 30th October 2017. However, my Goan sojourn actually began a day earlier on 22nd October 2017, when I boarded a bus from Gokul Restaurant located  Borivali, a western Mumbai suburb. And so it was at about 7 pm (departure time) that I arrived at the restaurant to board the bus scheduled to depart for Madgaon. Furthermore, it was at about 07.15 pm that the bus departed, and I was eventually on my way to Goa.  It was at about 11.30 am that I reached Madgaon Bus Stand extremely exhausted, and hoping to get to my guest house at the Palolem Beach situated in the Canacona area in South Goa. So, here is presenting  my personal experiences at the magnificent Goan beaches on a day-to-day basis.
Read More: Why are Goan Beaches so Popular?
Day 1 Monday 23rd October: The "Palolem" Experience:
"Where do you want to go" said Steven Dias a motorcycle pilot belonging to Margao, who I first saw as soon as I alighted at the Madgaon Bus stand. I replied that I wanted to travel to the Aldrin Guest House located in close proximity to the Palolem Beach, to which he agreed at a price of Rs 550 and off we went. It was a wonderful journey from Madgaon to Palolem Beach situated in the Canacona district (covering a distance of 38.6 km) which comprised of "evergreen trees" on both sides of the road, cool breeze, and a bit of light rain. And then, about 30 minutes later I reached the guest house, pay Dias for his service, and then checked in by paying a day's rent of Rs one thousand and four hundred to the manager.
Now, since I am totally exhausted on account of the journey I freshen up, and have a decent nap. Feeling refreshed I then at about 4 pm venture on to the beach (which is a 2 minute walk from the guest house). The sun providing me with the ideal light for capturing pictures using a Canon digital camera. It was while taking pictures and experiencing the beauty of the beach that I was offered to try out "kayaking" by a man who told me his name was Dinesh Vaghela. He also explained to me that a single kayaking boat ride would cost Rs 300, while a double kayaking boat ride would cost Rs 500.  And so I decided to go for the double boat ride (accompanied by Vaghela), and thoroughly enjoyed it. As the beach was engulfed by the view of the setting sun I decided to have dinner at the Dropadi Restaurant and Bar situated on this beach. I then ordered a plate of masala king fish and strong Kingfisher Beer, and ended a rather tiring yet enjoyable day on this beach known as Palolem.
 Day 2 Tuesday 24th October: The "Butterfly Beach" and the "Modi" Family:
The day began by deciding to visit the Butterfly Beach that is located at about 6 km from Palolem, and which can only be visited via a boat. And so, at about 10 in the morning I arrived at the beach in search of a boat service that could provided me a trip to the Butterfly Beach. It is only after a 15 minute search that I found a boat provider taking an Indian family for a trip to Butterfly Beach who agreed to take me for a fee of Rs 1000, after taking permission from the family, who happily agreed to accommodate me.
The journey to this beach located on an island was beautiful and filled with tranquility, with dolphins often being spotted in the sea. In addition, during this journey I also got to see the beautiful Rajbag and the Patnem beaches (from a distance though).  It was at the Agonda Beach that the boat had its first and only stopover for about half an hour. It was during this 30 minutes that I managed not only take some pictures of the picturesque beach but also, enjoyed the "tranquil" atmosphere that it provide for. The boat then resumed its journey, and it was in about ten minutes that we arrived at the Butterfly Beach.
On disembarking on this beach for about just half an hour , it was its sheer scenic beauty and tranquility that absolutely "took my breath away". While on the way back to Palolem, I also got to get a glimpse of the beautiful "Honeymoon Beach", which is also located on an remote island (like Butterfly). It was also during the journey back that the Gujarati family (husband, wife, and two kids) I tagged along began to open up to me. It was basically the rather chatty wife who introduced her husband as Ghanshyam Modi,  and informed me that her husband is into the plastic bag manufacturing business while her kids, a boy is studying in the eight grade and girl studying in the tenth grade.
In fact, Ghanshyam also offered me glass of Old monk rum (which I could not refuse), and began asking me about my job and life. When he realized that I was single he commented in a "Big Brother" tone "In life there is no fun without wife or girlfriend, please remember that" In the meantime, the wife continued chatting with me and informing me that her family has settled in Ahmedabad, however originally she was born and brought up in the suburb of Andheri (East) in the city of Mumbai. As the boat eventually returns to Palolem I take a pic of the "Modi" family and thank them for their generosity. I then eat scrumptious Goan fish curry rice for lunch along with beer in a restaurant, check out from the guest house, and hail a taxi (since I cannot ride a two wheeler, the cheapest option) to get to my next destination, Cavelossim.
Day 3 Wednesday 25th October:  The "magical" experience at the Cavelossim Beach:
On arrival at my accommodation in Cavelossim situated in South Goa, I befriend a manager of the property named Dennyson Viegas. I then explained to him intention of my Goa trip, and he agreed to take me around four beaches namely Cavelossim, Mobor, Varca, and Colva. And so we left the guest house in a car at about 10 am, and we began with the Cavelossim Beach which is located in close proximity. It was the breath taking pristine beauty that I experienced while entering this beach that absolutely blew my mind. And so, I began taking some pictures of this magnificent beach. It was at while I was taking pics that I shack named "Pearl's Beach Cafe" on this beach caught my eye, and since I was hungry I decided to check it out. It was while eating french fries and coke cola at this shack that I realized that an article on it would be great for this website. I then contacted the owner Cruz Cordozo, who willingly agreed to give me an interview stating that I would have to wait about half an hour. Since I had lots of time to spare  I approached a British couple Gary and Stacy at the beach for a short interview, who were gracious enough to give me great insights about their experience in Goa. Eventually, I even managed to interview Cruz and extract some interesting information about the shack that would make for a great feature article.
Now, since the Mobor Beach lies in close proximity to Cavelossim I walked it down, which took about 15 minutes. This beach apart from its picturesque beauty also provides for some exciting adrenaline rushing water activities such as jet skiing, banana boat rides, wind surfing, and parasailing. My next stop was the Varca Beach, which was about a 10 minute drive from Mobor and Cavelossim. This beach like most of the others I had visited so far was pristine as well as picturesque, and therefore I clicked a few pictures. It was also over here that I had bottle of beer in a shack called Pereira's, and also gained some useful insights about it for an article by having a small chat with a waiter named Raviton Fernandes.
And so, finally I ended Day 3 by visiting the popular Colva Beach, which was approximately a 15 minute drive from Varca. On stepping on to this beach what struck me was the crowd (mainly comprising of Indian tourists) apart from the obvious scenic beauty. Furthermore, I also managed to interview Mr. Matthew the manager of the "Domnick's Shack" located at this beach. In a rather freewheeling conversation (which included a generously offered free beer) Matthew provided me with some useful information about the shack that would enable me to write an interesting article on it. On concluding my chat with the manager I finally complete another satisfying and fun filled day, and return back to my guest house located in Cavelossim.
Day 4 Thursday 26th October: The "Magnificent" sunsets at the Betalbatim Beach:
The day began with me checking out from my Cavelossim accommodation, and arriving at "Antonio Residency" guest house located in close proximity to the Betalbatim Beach.  I then refreshed had breakfast comprising of scrambled eggs and tea provided by the proprietor  Mr. Antonio Pereira. It was at about noon that I eventually headed first towards the Bogmalo Beach in a official tourist licensed car driven by Mr. Pereira (who also provides for taxi services). On arriving at this beach I am welcomed by a pristine environment comprising of beautiful palm trees, and a cool breeze to go along with it.  It is at this beach that I also had my lunch consisting of fish and chips and a bottle of beer in a restaurant known as Dom's Sea Cuisine. I also took this opportunity to talk to the waiter named Raju (from Odisha) and extracted from him useful information about this shack that could prove useful in writing an article on it. With time running out I took a few pictures of this beach and leave for my next destination, the Uttorda Beach.

It was while on the way to the Uttorda Beach that Mr. Pereira told me that I could cover Majorda and Betalbatim beaches as well as they all lie in close proximity to one another. And with this advice in mind I entered the beach known as Uttorda only to be welcomed with an atmosphere filled with "tranquility" and pristine environment. It was at this beach that I saw a couple of lifeguards, and suddenly a thought struck me that an article on what this profession entails could prove useful for the readers. And so, I spoke to lifeguard named Ganesh (who did want to be photographed) about his profession in great details. I must add that this lifeguard was extremely gracious and spoke in depth about his profession providing useful insights for a wonderful article, and full credit must be given to him. On completing the interview with the lifeguard it was time to move on to the Majorda Beach.
Now, since the Majorda Beach is located in close proximity to Uttorda I walked this stretch which took about 10 minutes to arrive at. On arrival, like most other beaches in Goa I was welcomed by a "pristine and tranquility" filled environment. And so, I took a few pictures and then decided to move on to the Betalbatim Beach.
It was while walking towards the Betalbatim Beach (popularly known for its sunsets) that I saw a Caucasian couple having fun in the sea. After a while I observed that the man decided to have stroll on the beach. It was at this moment I approached him with a gut instinct that told me that he could certainly provide for an interesting feature article subject. My instinct fortunately turned out to be true with this man who told me his name was Andre and was a Russian belonging to Moscow talking in detail about his experience in the Indian culture and on the Goan Beaches. On completing an informative chat with Andre, I continued to move towards the Betalbatim Beach.
On arrival at the Betalbatim Beach I was welcomed by the magnificent view of the setting sun, and it comes as no surprise that it is also referred to as the "Sunset Beach". It was out here that I not only reveled in an extremely "romantic atmosphere" but also took great pleasure in taking some magnificent pictures and videos of the setting sun. After truly soaking in and enjoying the atmosphere at this beach it was time to end what can be termed as a truly enjoyable day, and return to my guest house.
Day 5 Friday 27th October: A Day in "Panjim" City:
It was a truly enjoyable 45 minutes drive from the Betalbatim area that eventually brought me to Panjim City, my first glimpse of North Goa. I then checked into a small guest house known as "Casa Paradiso", and after settling myself I soon moved out to cover Panjim city, as well as the Miramar and Donna Paula beaches respectively. Since I am adventure lover I thought it would be interesting to walk my way up right up to these beaches. And so I began my journey by first visiting the famous Old Panjim Church called "Immaculate Conception Church" and captured its beauty via a picture and video. It was while I was walking towards the beaches that I happen to see a beautiful park called "Bhagwan Mahavir Bal Vihar" that was providing for boat ride on River Mondui. The charges for a boat ride included Rs 5 for a child (below the age of 15) and Rs 10 for an adult. Apparently, the boat used by this park can carry up to 2 adults and 2 children.
It took about 45 minutes of walking before I finally arrived at the Miramar Beach. On venturing onto this beach, the thing that struck me the most was that it was crowded, and unfortunately was not as pristine as some of the beaches I had witnessed in South Goa. And so I took a few pictures and video of it. Now, it was noon and I thought this was best to have lunch, and so I entered a Cafe Coffee Day outlet located in close proximity to this beach. I then ordered a sandwich and a cup of Expresso Coffee, and it was while eating this rather light meal that I observed a radiant and charming Caucasian lady intensely looking into her laptop with headphone in the ears. It was a few minutes that I asked her if she would not mind giving an interview for this website. She responded positively and told me her name was Mathilde (Maddy)  and she was from the French speaking region of Quebec in Canada. It was a wonderful 15 minute chat, and as soon as I completed it I said goodbye to this graceful woman, and continued by journey towards Donna Paula.
It was after walking for further 45 minutes that I eventually reached Donna Paula. On arrival, I realized that this spot was basically a jetty through which one could see the picturesque view of the Arabian Sea or engage in some water sports such as jet skiing. A few stalls selling some handicraft products, dresses, hats etc are also located in close proximity to this jetty. It was also at this area that I spoke with brothers Ryan and Steven who sell homemade "kulfis". Having extracted enough information from the siblings for an interesting article, I bid them goodbye and began my return journey to Panjim. And so, an adventure filled day ended (having covered 12 km by feet) with a nice click of the setting sun at the Miramar Beach.

Day 6 Saturday 28th October:  An experience to remember at "Calangute":
It was a wonderful 13 km journey on bike (pilot service) that I thoroughly enjoyed while getting to Calangute from Panjim. It was about 10 in the morning that I checked into a guest house known as Safiya, took about 30 minutes to freshen up before venturing out in the scorching heat at the Calangute Beach. And so as soon as I got on to the beach I began clicking pictures and videos. While at the beach I also observed how crowded as well less pristine it really was. I then walked towards the middle of this beach (an area called Cobro Vaddo) when I saw young man named Samir Sheikh with sunglasses slowly approach and asked me "Sir why don't you relax at our restaurant". In response, I instinctively took this offer, sat on a comfortable chair attached to an umbrella, and place an order comprising of spicy chilli chicken plate and a bottle of local Goan beer Kings. It was while talking to this charming boy that I realized that an article on this restaurant known as "Cafe Bubbles" would be just perfect. And so, I extract the relevant information about this restobar that would make for an interesting read from Samir and a senior waiter named Umesh Yadav. As I complete my lunch and chat I leave Calangute Beach to experience the Baga Beach.
It was after walking for about 10 minutes from the Calangute  that I eventually reached Baga Beach. Once again it was the bustling activity at this beach that I clearly noticed. Additionally, this beach also provides for water sports such as parasailing, banana boat rides, and jet skiing. Since I had to cover a couple of beaches more I quickly clicked and a few pictures and videos before I exited Baga Beach.
My next stop were the Vagator and the Anjuna beaches, for which I hired a taxi from the Baga market area. I arrived first at the Anjuna beach, only to realize that it was actually a "rock beach" . And so on this beach all I could see was the Arabian Sea and a few rocks with no presence of any sand.  Having clicked a few pictures and a video it was time to visit the Vagator Beach which was situated in close proximity.
At the Vagator Beach I was welcomed with not only the beautiful "sunset view" but also with what looked like a Bollywood movie shooting. And so I clicked a few pictures, recorded a video, and enjoyed the pristine environment on this beach. It was while it was at this beach that I observed a small stall selling some interesting handicraft products. Intrigued I began asking the seller who told me his name Akash a few questions pertaining his business. Having extracted sufficient information from the handicraft seller, and with sun setting it was time to head back to my motel in Calangute. And so, I hired a taxi to Baga and decided to have dinner at the famous Brittos Bar and Restaurant.
"A vibrant atmosphere filled with some energetic music" is the welcome I received as soon as I settled myself at Brittos. I then ordered for a scrumptious dinner that included Goan fish curry, rice, and a bottle of beer. It was after dinner that I spoke to the soft spoken manager Rajesh Nayak about the restaurant and obtained useful information for an interesting article. Having completed my chat with Mr. Nayak, I walked from Baga Beach to my accommodation in Calangute.
It was also at Calangute that the sea water managed get into my mobile which I placed in the pocket of my short, and as  result was not able to use it. I initially thought it would take about a few hours to dry it and get it started but, it did not. Meanwhile, in my enthusiasm to get my work done I forgot to inform my family about whereabouts (which previously I had been doing on a regular basis). And so, as a result my folks at home panicked and they even contacted my mother's cousin named Mahesh living in Goa to check on me. In fact, he landed at my motel and it is when I eventually connected to my parents via his mobile that they felt genuinely relieved.
Day 7 Sunday 29th October:  An interesting chat with a Swiss at Candolim and the beautiful sunsets at the Morjim and Ashwem Beach:
The day began with me walking along the Calangute Beach to cover the Candolim and Sinquerim Beaches respectively. It was after walking for about 15 minutes that I reached the Candolim Beach. It was over here that I took some pictures and videos. I spent about 15  minutes at beach before I continued to walk further towards Sinquerim Beach.
It was yet another 15 minutes walk that brought me to the pristine and crowded Sinquerim Beach. Once again I take a few pictures and videos enjoy the "sun and sand" for yet another 15 minutes, and then walk back to Calangute. It is on my way back in Candolim that I happen to meet a friendly Swiss tourist named Sandra. I then have short but interesting chat with her who tells me she is journalist who is currently teaching school children how to make handicraft products in the Candolim area. A 10 minute chat with this charming lady allows me enough time to extract information for an article. Having completed my conversation I wish her luck and continue my walk back to Calangute. On reaching my motel, I check out and then hire a taxi to Morjim Beach located in North Goa.
It takes about 45 minutes before I reach the Morjim Beach (known as Little Russia) at about 3 pm and check into my motel. I then have a nice nap and refresh myself and walk into the beach at about 5 pm. It was while I was at this beach that I noticed a "Russian" presence. In fact, at my motel I could literally hear only Russian being spoken. Furthermore, I then click some picturesque images of the beach with the setting sun serving as the background along with a video.
I then walk for about 5 minutes from Morjim before I enter the Ashwem Beach. It is at this beach that I notice a presence of large number of rocks. Once again I experience the beautiful setting of the sun and so I take pictures and video and return back towards my accommodation. I first decide to eat dinner at a shack known as Cafe Lucky Star at Morjim Beach. As soon as I complete my dinner comprising of my favourite Goan fish curry and rice along with beer I talk to the owner Sudhesh  Dabolkar who gives me all the information required for writing interesting article. And so, as I complete my chat with the owner I thank him for his cooperation and retire to my room in the motel for a good night's sleep.
Day 8 Monday 30th October: The Mandrem and Arambol Beach and my journey back home:
So, finally the last day in my 8 day backpacking tour has arrived. I begin the day by having breakfast at the Cafe Lucky Star Shack at the Morjim Beach, and then head towards the Mandrem and the Arambol Beach respectively.
It was about a 20 minutes walk that first brought me to the Mandrem Beach. I then click some beautiful pictures and couple of videos of this pristine beach before I once again continue on my journey to Arambol Beach.
It takes approximately another 20 minutes before I reach the Arambol Beach. Now, it is at about noon  that I arrive at this beach so I decided it is perfect time to have my lunch. And so, I enter  Surf Shack located at this beach and order for a tandoori Pomfret Fry. It was while I was eating that I chat up with a smiling young waiter named Varun Thakur who gives me enough information to create an interesting article. As I complete my lunch and chat I walk away from this beach and head towards Morjim. It is at about 5 pm that I check out from my motel and hire a taxi for Panjim to catch a bus at 7 pm from the KTC bus stand heading towards Mumbai. It is at about 07.30 pm that the bus leaves the stand, and I am finally on my way back to my home city.
It is about 11 pm in the morning that I finally alight from the bus at the Sanjay Gandhi National Park in Borivali, and hire a rickshaw right to my residence in IC colony. It is only a few hours later that the feeling of having arrived from a wonderful trip to Goa finally sunk in. And so, having had great time as a travel journalist and having learnt a lot of invaluable lessons on the way, I can safely say that the memory of this trip to Goa shall remain in my memory forever.
Also Read: Top 10 must see "Beaches in Goa"

[amazon_link asins='8183221114,9386832070,0340693258' template='ProductGrid' store='beachesofindia-21' marketplace='IN' link_id='937b7afd-e89e-11e8-a6b1-9d9a01b3e29b']