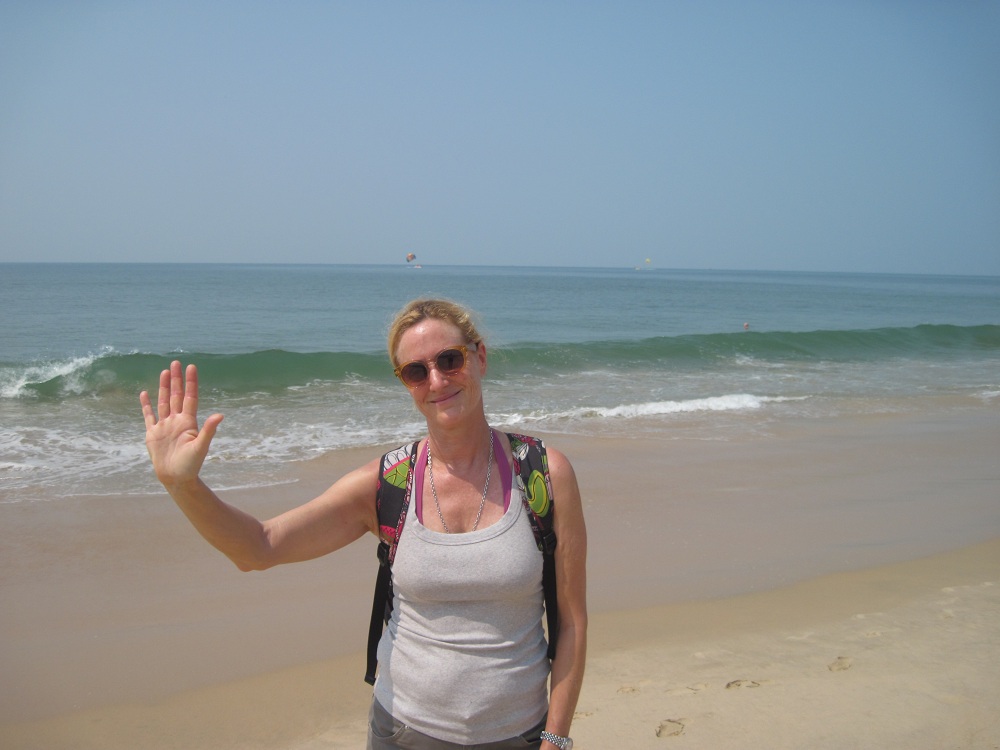 A "Swiss" encounter at the Candolim Beach
"Your shoe is making sound" commented Sandra a Swiss tourist while walking besides me along the Candolim Beach located in North Goa. It is this "out of the blue" comment made by this  lady who was a total stranger to me that piqued my curiosity. It was thus out of intrigue that I decided to have a conversation with this woman, and find out more about her. So, here is presenting  details of the small chat that I had with Sandra at this beautiful beach.
Read More:  Few Essential Facts about Goa Beaches
Candolim Beach Map


1. The "Background" of Sandra, and the reason behind her stay in Goa:
"Swiss" replied Sandra when I asked her about her nationality, to formally begin our small chat. I then asked her about her profession, to which she said that "She was a journalist working for a newspaper in Switzerland".  Furthermore, when I asked about the newspaper brand he is working for, she cryptically stated that "It is not a kind of newspaper you would want to know about". In addition, I also asked her the reason behind this visit to Goa, to which the reply given by her was that "She has been training school children belonging to the Candolim area in manufacturing of various handicraft products".
2. Sandra's experience at the Goan Beaches, and in India:
I then ask Sandra whether she had experienced any of the Goan Beaches thus far, and she said "No I have not and it is only because I was given a day off from training school children today, that I decided to visit the Candolim Beach". When I asked her about her experience in India, she rather happily stated that "She has thoroughly enjoyed this country, mainly due to the "spirituality" it possesses". In fact, she tells me that this is not her first trip to India, and has actually lived in Pune for three full years. She also during this conversation professed her deep love for an old temple (no name given) located in Mahabaleshwar, simply because visiting it made her feel "spiritually" refreshed.
3. The "Fedex" Connection:
Now, since she is a Swiss, and I am a fan of the sport tennis, I ask her about the legend of Roger Federer. As soon as I mention the name of this genius of a tennis player her face literally lights up, and she states that "Roger is not only a great champion but also is an extremely humble human being". She further adds "So normal is this great player that most of the time he himself takes the effort to greet everyone he comes across in daily life".  We also agree in unison to the fact that "Federer is not only a champion due to his wins,but also because of the way he does it".
As my short and sweet encounter with this beautiful and spiritually inclined lady from "Swiss" comes to an end I wish her luck, and then continue on my journey from Candolim Beach to the guest house I was living in situated in the Calangute area.
Also Read: HOW SOUTH GOA BEACHES DIFFER FROM THOSE IN NORTH GOA? 
[amazon_link asins='8183221114,9386832070,0340693258' template='ProductGrid' store='beachesofindia-21' marketplace='IN' link_id='937b7afd-e89e-11e8-a6b1-9d9a01b3e29b']