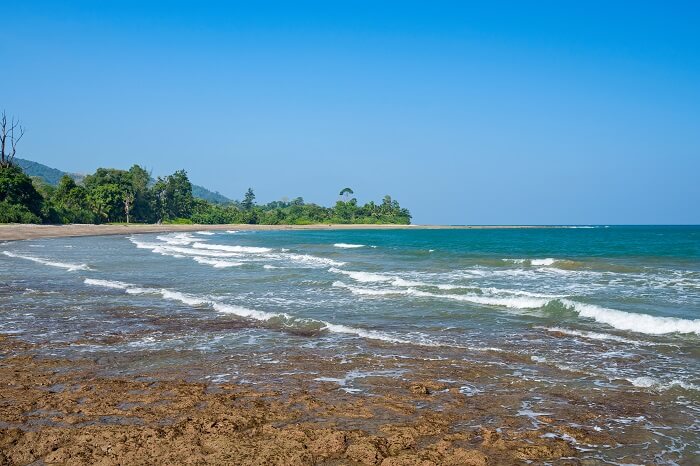 Aamkunj Beach – Andman And Nicobar
Considered to be "less picturesque" is a beach in the Andaman and Nicobar Islands known as "Aamkunj Beach". This beach located in a small town called Rangat and, is known for its crystal clear blue sea water. It also is an ideal spot for swimming since it is extremely safe to do so during high as well as low tide. Additionally, the area around this beach has been developed into an eco-friendly park with a number of huts, wooden rubbish bins, changing rooms, and huge wooden benches having been constructed using natural materials. It is also considered as a popular picnic spot. So if you intend to enjoy a really good "picnic" with your family and friends then this beach must be visited. 
Read More: Essentials to carry to a beach destination
How to reach Aamkunj Beach? 
Aamkunj Beach Map
By Water:
There is a ferry service available from Rangat that connects to Long Island, Havelock Island, Neil Island, and Port Blair. This service is operational on all days of the week except Saturday.
     2. By road:
There are number of bus services that are available from Port Blair that connect to Rangat.
     3. By Air:
The closest airport to this beach is located in Port Blair. The Port Blair Airport is well connected to major cities in the country like Kolkata, Mumbai etc.
Climate and the best time to visit Aamkunj Beach:
The climate during the summer which begins in March and ends in June can be termed as "hot and humid" with temperatures ranging from a maximum of 35 degree Celsius to a minimum of 25 degree Celsius. The rainfall received during the monsoons that begins in June and ends in September ranges from moderate to heavy. As for the pleasant winter months which, begins in October and ends in February, the temperature ranges from a minimum of 20 degree Celsius to a maximum of about 30 degree Celsius. So the ideal time to visit this beach is from October to February as the climate is just perfect for an enjoyable family picnic.
Places To Visit Around Aamkunj Beach :
The eco-friendly park located around this beach developed under the stewardship of Divisional Forest Officer Mr. V Kannan is a major tourist attraction with hundreds of visitors visiting it every day. This environment friendly park is also the major reason behind this beach rapidly gaining popularity.
Word of caution:
This beach is located in a desolate area and, does not possess any restaurants, shops etc and, therefore it would be advisable to carry along your own food/drinks depending on the duration of your stay.
Also Read: Top 10 Must Visit Beaches in Andaman and Nicobar
[amazon_link asins='8183221114,9386832070,0340693258' template='ProductGrid' store='beachesofindia-21' marketplace='IN' link_id='937b7afd-e89e-11e8-a6b1-9d9a01b3e29b']