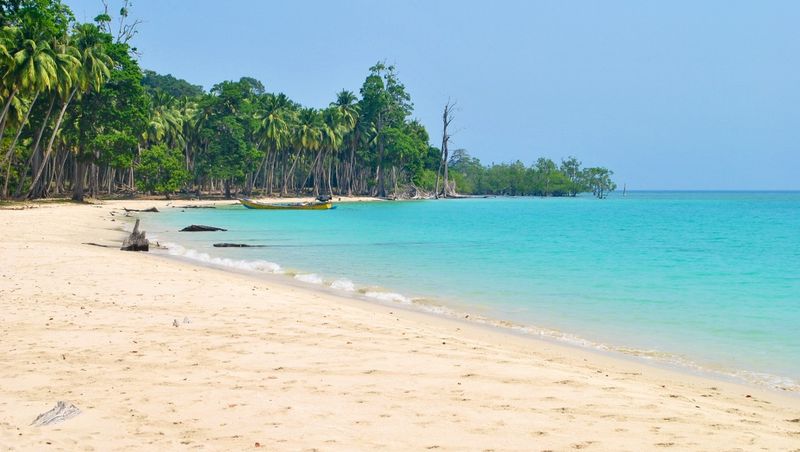 Lalaji Bay Beach – Andman And Nicobar
"Lalaji Bay Beach" located in Long Island in Andaman and Nicobar can best be described as "an extremely scenic and pristine beach". It is surrounded by an extremely beautiful and tranquil environment that includes a large number of coconut trees and crystal clear water. It is also considered to be a deserted beach and, hence ideal for those who want to relax in absolute isolation. Additionally, this beach is also perfectly suited for activities such as swimming and snorkelling. So if you intend to relax by completely secluding yourself from the world around you then, this beach is what you are looking for.
Read More: Top 10 Must Visit Beaches in Andaman and Nicobar
How to get there Lalaji Bay Beach? 
By Water:
There are regular speed boat services that operate three times a week from Port Blair that travel up to Long Island. On arrival at Long Island a "Dinghy Boat" needs to be used to get to the beach.
      2. By Bus:
There are a number of bus services available from Port Blair that connects to Rangat, a village that lies in close proximity to Long Island. From this village boat services to Long Island are available.
      3. By Air:
The nearest airport to this beach is located in Port Blair. The Port Blair Airport is well connected to major cities in the country such as Mumbai, Kolkata etc.
Climate and the best time to visit Lalaji Bay Beach: 
The summer months in Long Island begins in April and ends in June with temperatures ranging from a minimum 25 degree Celsius to a maximum of 35 degree Celsius. The rainfall received during the monsoons which begins in July and ends in September ranges from moderate to heavy. Finally, winter begins in October and ends in March with, the climate being extremely pleasant and, temperatures ranging from a minimum of 20 degree Celsius to a maximum of 34 degree Celsius. So the ideal time to visit this beautiful beach in Long Island is from October to March as during this period the temperature is ideally suited for activities such as swimming and snorkelling.
Things/activities to do:
This pristine beach is renowned for snorkelling as well as ideal for swimming. It is also serves as an ideal destination for tourists interested in relaxing in total seclusion, away from the worries of the world.
Word of Caution:
Since this beautiful beach is located in an isolated spot on the island there are no shacks or restaurants that offer food. So it would be prudent to carry along adequate amount of food/drinks depending on the duration of your stay.
Also Read: ANDAMAN AND NICOBAR BEACHES, AND THE CUISINES AVAILABLE
[amazon_link asins='8183221114,9386832070,0340693258' template='ProductGrid' store='beachesofindia-21' marketplace='IN' link_id='937b7afd-e89e-11e8-a6b1-9d9a01b3e29b']