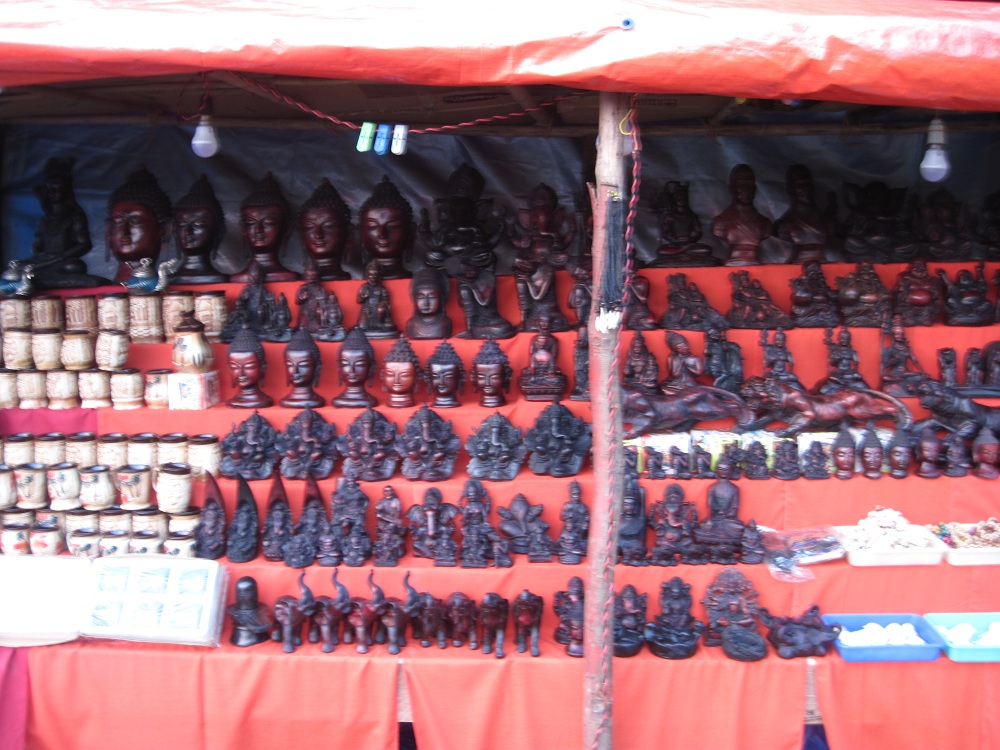 A handicraft shop at Vagator Beach
"A pleasant smile" is the first thing that comes to the mind when one first sees Akash, a handicraft product seller located at the Vagator Beach in North Goa. It was while I visited this beach that I first set eyes on this man selling some interesting handicraft products in a stall. After having taken some beautiful pictures of the setting sun on this beach I decided to talk to this simple man and find out more about his business. So, here is presenting some useful information about Akash and his business.
Read More: GARY, STACY, AND THE CAVELOSSIM BEACH
Vagator Beach Map


a. Basic information about Akash and his handicraft business at the Vagator Beach:
"I am originally from Agra" said the soft spoken Akash when I asked him about his native place. Furthermore, I then ask him about the types of handicraft product that he usually sells in his stall, to which he responded stating "I generally keep statues of Buddha, Shiva, Ganpati, cups, elephant statues, ashtrays, key chains etc.  In addition, he also stated "These days "selfie stick" costing about Rs 250 are also brought commonly by costumers".  Out of sheer curiosity I quiz him about his arrival  in Goa, and he commented "It was in the year 2009 that I came to Goa and started selling at this beach". I also ask him about the shop timings that he follows daily, to which he responds stating "I open at about 9.30 am in the morning and close at about 8.00 at night".
b. A few facts about Akash's handicraft business at the Vagator Beach:
"November till about February is when business soars" Akash told me when I asked him about the season during which he earns a lot of money. Probing further, I ask how much does he make during the peak season, he thinks about it and then comments "I usually make Rs 2000 to Rs 3000 monthly". When asked about the off season he replied "It is usually beginning from March till about October that the business gradually slackens". He further adds "It is during this period when business reaches its lowest ebb that I return to my home in Agra". As for the prices he charges for various handicraft products, he stated "It depends on the size of the item brought by the customer, and it could range from as low as Rs 150 to a maximum of Rs 1000 and above".
With the sun setting at the Vagator Beach, and dinner time approaching it was time to end this short and sweet conversation with this pleasant man from Agra. And so I leave this stall with a smile on my face, and my heart filled with hope that the handicraft business of Akash one day does reach the "sky".
Also Read:  Few Essential Facts about Goa Beaches
[amazon_link asins='8183221114,9386832070,0340693258' template='ProductGrid' store='beachesofindia-21' marketplace='IN' link_id='937b7afd-e89e-11e8-a6b1-9d9a01b3e29b']