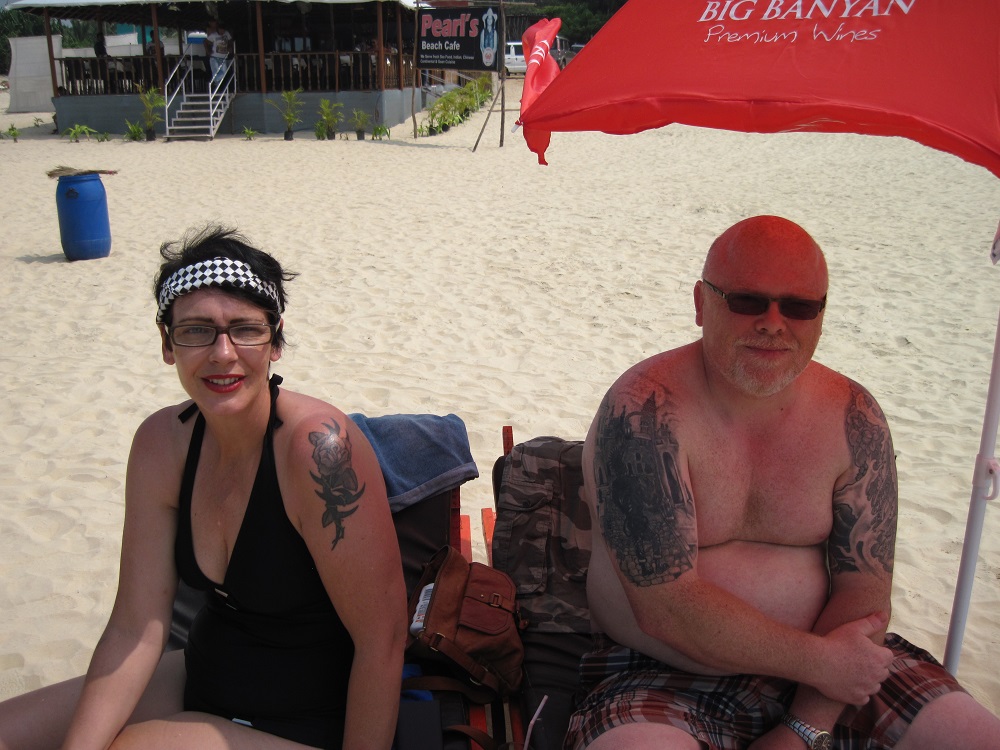 Gary, Stacy, and the Cavelossim Beach
"Absolutely wonderful" is how Gary and Tracy, a British couple described their experience in Goa when I spoke to them on the beautiful Cavelossim Beach. Residing in a county called Lincolnshire in the northeast of England, they are on their first trip to Goa. In addition, it also happens to be their first tour to India. This couple on first chat was quite friendly, and so out of  sheer curiosity I asked them some questions related to their beach experience in Goa.
Read More: HOW SOUTH GOA BEACHES DIFFER FROM THOSE IN NORTH GOA?
1. Why are they visiting Goa?
When asked as to why did they travel to Goa, Gary replied that "We have a few friends at Goa, and it is on their invitation that we are here". He further goes to add that "England at this time of the year, in terms of climate is extremely cold, and so a good deal of sunshine is what we require".
2. When did they arrive, and how long do they plan to stay in Goa?
When asked about their arrival in Goa the couple said that they arrived on Thursday, 19th October 2017 and have been in Goa for about six days now. As for their return, they said that they planned to return to England by the end of the week which would be a 10 day vacation.
3. What were their experiences on the beaches visited in Goa?
They commented in unison that "Thus far they have been to Colva, Polem, and Cavelossim".  When asked about their opinion on the beaches visited the couple said that "Overall,they have really been impressed by all of them". In fact, according to them "The scenic beauty and pristine environment of all these beaches has certainly surpassed their expectations". Furthermore, Gary also states that they have earlier visited beaches in Maldives as well in the Dominican Republic (located in the Caribbean region), and according to him "Goan beaches rate far above any of those".
4. What was their food experience in Goa like?
In terms of food in Goa, Gary categorically stated that "He loved the spiciness that accompanies the Goan cuisine". When probed further as to whether he could tolerate spice, he replied that he could easily manage it but it was a definite problem for Tracy. When I asked Tracy about her intolerance to spices she said that "she just could not handle the burning sensation caused by the spices in the Goan food". Furthermore, when I quizzed her about managing her daily food intake, she says that "less spicy food prepared by friends (their hosts) in Goa is basically on what she is surviving on.
With a waiter working for a shack ,located on this beautiful beach, having served delicious looking omelettes to the lovely couple, the time was right to bid goodbye to them. So, having witnessed the beauty of the Cavelossim Beach myself, I am sure that the wonderful memories of this pristine beach shall always  remain in the memories of this wonderful couple – "Gary and Stacy".
Also Read: SOME BUDGET ACCOMMODATIONS AROUND GOAN BEACHES
[amazon_link asins='8183221114,9386832070,0340693258' template='ProductGrid' store='beachesofindia-21' marketplace='IN' link_id='937b7afd-e89e-11e8-a6b1-9d9a01b3e29b']