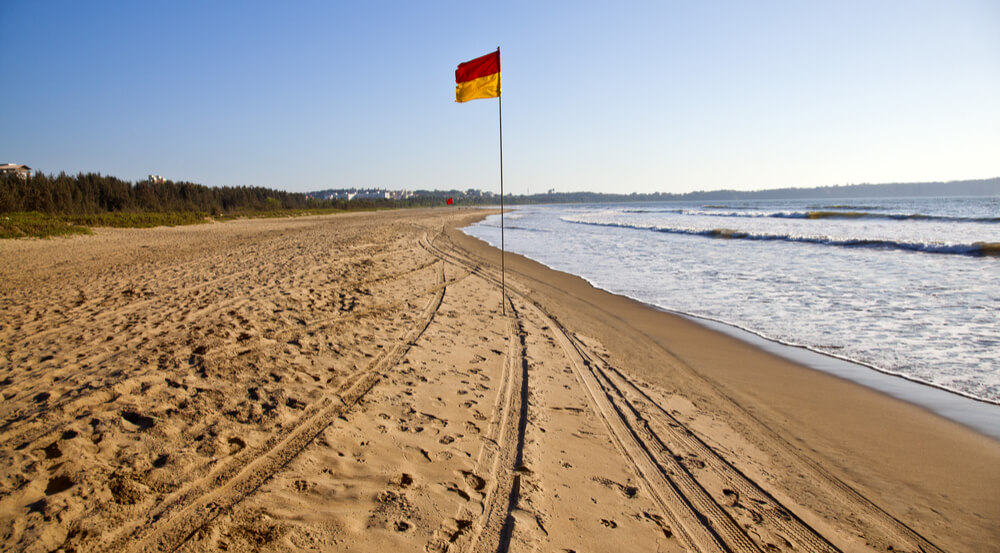 Miramar Beach – Goa
There is a picturesque and extremely pristine beach located at a distance of 3 km from Panaji called Miramar Beach. This beautiful beach was earlier known as "Porta De Gasper Dias". It provides for a magnificent view of a Portuguese Fort that is located across the River Mandovi. It also comprises of beautiful golden sand, and is surrounded by beautiful palm trees. Furthermore, the atmosphere at this beach is filled with tranquillity, and hence attracts a large number of tourists. Additionally, dolphin spotting tours are extremely popular at this beach.
Read More: MADDY, A CANADIAN AT MIRAMAR BEACH
How to Reach Miramar Beach?
By train:
The nearest railway station to this beach is located in Karmali at a distance of 34 km. The Karmali Railway Station is well connected to cities such as Ernakulum, Mumbai, Delhi, Ahmadabad and Bengaluru.
By road:
If you intend to drive to this beach then, the ideal starting point would be either Mapusa or Panjim.
Via Mapusa:
There are two routes available from Mapusa. They are as follows
Via NH-66:
This route includes Duler-Marna-Siolim Road, Guirim, Avenida Dom, Joao De Castro, DayanandBandodkarMarg, Jack De Sequeira Road, and finally the beach.
Via MDR-8:
This route includes Duler-Marna-Siolim Road, Calangute-Mapusa Road, Chogm Road, DayanandBandodkarMarg, Dr Jack Sequeira Road, and finally the beach.
     2. Via Panjim:
There are three routes available from Panjim. They are as follows
Via DayanandBhandodkarMarg:
This route includes Avenida J Silveira Road, Dr. Braganza Pereira, DayanandBhandodkarMarg, Jack De Sequeira Road, and finally the beach.
Via St Inez Road:
This route includes Avenida J Silveira Road, St Inez Road, Jack De Sequeira Road, and finally the beach.
Via St Inez and Jack De Sequeira Road:
This route includes DB Marg, St Inez, Dr Jack De Sequeira, and finally the beach.
By air:
The closest airport located to this beach is in Dabolim. The Dabolim Airport is well connected to major cities in the country as well as international destination.
Climate and the best time to visit the Miramar Beach
The best time to visit this beach is during the "pleasant" winter which begins in December and ends in February  with the temperature ranging from a maximum of 28 degree Celsius to a minimum of 21 degree Celsius.  The summer months which begins in March and ends in May is "hot and humid" with an average temperature of about 35 degree Celsius recorded during this period. The rainfall received during the monsoon season which begins in June and ends in September is "heavy".
Things/activities to do 
There are a number of things/activities found on this beach worth trying. They are as follows
Water sports:
Located at this beach is the National Institute of Water Sports that provides for training in a variety of water sports activities. The activities provided by the "Ministry of Tourism" sponsored institute includes sailing, windsurfing, water skiing, scuba diving, river rafting and kayaking.
     2. Shopping:
There are number shops located on this beach which sells products such as handicraft items, jewellery etc.
     3. Shacks/restaurants:
There are a number of shacks/restaurants that provide for delicious Goan cuisine along with drinks. In addition, these shacks/restaurants provide magnificent view of the seaside. A few popular shacks/restaurants located in this beach are as follows Martin's Beach Corner, Food-land, and Sea View etc.
4. Street Vendors: 
In close proximity to this beach located in Panjim there are a number of street vendors selling snacks such as Pav Bhaji, Shev Puri, Ragada Pattis etc. These stalls usually start their business only after 3 pm in accordance to the permission given by the state government. A stall known as "Ram Avtar Gupta Stall" serves for some delicious Pav bhajis.
5. Cafe Coffee Day: 
An outlet of "Cafe Cofffee Day" is also situated in close proximity to this beach in Panjim. Serving various types of coffees, teas, sandwiches etc this rather small coffee shop also provides for a "chilled" out ambiance.
  6. Nightlife:
There are a number of discos pubs, and bars located in  and around this beach that provide for a vibrant nightlife. A few popular ones are as follows
Sea Moon Bar
Club Extreme
Food Land Restaurant and Bar
Tito's Pub
Pool Bar
Club Cubana
Club Westend
Also Read: Why are Goan Beaches so Popular?
[amazon_link asins='8183221114,9386832070,0340693258' template='ProductGrid' store='beachesofindia-21' marketplace='IN' link_id='937b7afd-e89e-11e8-a6b1-9d9a01b3e29b']