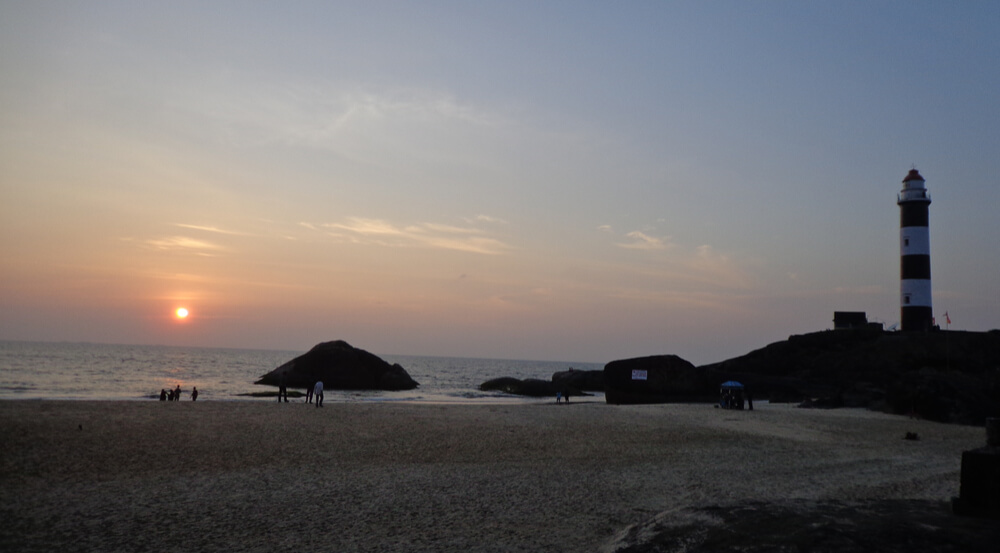 Kapu Beach – Karnataka
In between Udupi and Mangalore lies an extremely scenic beach called Kapuor also referred to as Kaup. This picturesque beach is known for its pristine environment. In addition, this beautiful Kapu beach is also said to be home to a lighthouse that was supposedly built during the year 1901. Furthermore, this beach also comprises of small shacks/eateries that serve delicious local cuisine.
Read More: 10 Popular Beaches in South India
How to Reach Kapu Beach?
By train:
The closest major railway station to this beach is located in Mangalore. The Mangalore Railway Station is well connected to major cities in the country such as Chennai, Mumbai etc. Alternatively, the Udupi Railway Station can also be used.
By Road:
If you intend to drive to this beach then the ideal starting points would be Mangalore, Bangalore,Udupi, and Coimbatore.
Via Mangalore:
There is one route from Mangalore and it is via NH-66.
      2. Via Bangalore:
There are two routes available from Bangalore and they are via NH-75 and NH-275.
      3. Via Udupi:
There is one route available from Udupi it is via NH-66.
      4. Via Coimbatore:
There are three routes available from Coimbatore they are via NH-275, via NH-66, and via NH-75.
By air:
The nearest airport to this beach is located in Mangalore. The Mangalore International Airport is well connected to major cities in the country as well some major destination in the Middle East.
Climate and the best time to visit Kapu Beach
The climate at this beach during summer season which begins in March and ends in May is extremely hot and humid with the mercury rising to a maximum temperature of 39 degree Celsius. The rainfall received during the monsoons which begins in June and ends in September is "heavy". The winter season which begins in December and ends in February is pleasant with the temperature ranging from a maximum of 34 degree Celsius to a minimum of 20 degree Celsius. So the ideal time to visit this beach is from December to February.
Things/activities to do
There are a few things/activities to do found at this beach. They are as follows
Shacks:
There are a number of shacks located on this beach that provide for delicious local cuisine worth trying.
      2. Lighthouse:
A lighthouse built in the year 1901 open to tourists during certain periods in the day is a major attraction located on this beach. This lighthouse provides for magnificent view of the entire seashore.
      3. Ruins of the Jain Basadis:
The ruins of Jain Basadis that can be found at this beach are also a definite worth visit.
Also Read: THINGS TO KNOW ABOUT SURFING ON SOUTH INDIAN BEACHES
[amazon_link asins='8183221114,9386832070,0340693258' template='ProductGrid' store='beachesofindia-21' marketplace='IN' link_id='937b7afd-e89e-11e8-a6b1-9d9a01b3e29b']