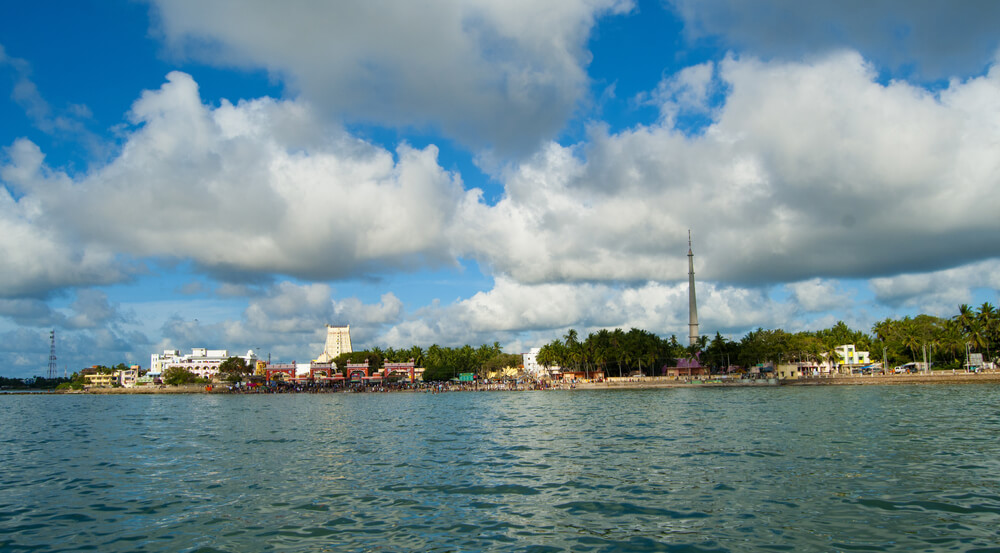 Rameswaram Beach – Tamil Nadu
Situated at a distance of 40 kilometres away from the Jaffna peninsula is a picturesque beach in Tamil Nadu called Rameswaram Beach. This extremely beautiful beach is located in a town called Rameswaram in the Ramanathapuram district. This beach is renowned for its shallow water and tranquil environment thereby making it an ideal spot for activities such as swimming and sunbathing. Furthermore, a famous Hindu temple called Ramanathaswamy is located in close proximity to this beach.
Read More: Top 6 must visit Beaches in Puducherry
How to reach the Rameswaram Beach
By train:
The nearest railway station to this beach is located in Rameswaram. The Rameswaram Railway Station is well connected to major cities in the country as Bangalore, Chennai, Coimbatore, Madurai etc.
By road:
If you intend to drive to this beach then the ideal starting points would be Bangalore, Chennai, Coimbatore, and Madurai.
Via Bangalore:
There are two routes from Bangalore to this beach, and they are via Salem-Madurai Road, and via Vellore-Toothukudi Highway.
      2. Via Chennai:
There are two routes from Chennai to this beach, and they are via NH-38 and via NH-32 and NH-38.
      3. Via Coimbatore:
There are two routes from Coimbatore to this beach, and they are via NH-87 and via Salem-Madurai Road and NH-87.
     4. Via Madurai:
There is one route from Madurai to this beach, and it is via NH-87.
By air:
The closest airport to this beach is located in Madurai. The Madurai Airport is well connected to major cities such as New Delhi, Mumbai, Chennai, and Hyderabad.
Climate and the best time to visit the Rameswaram Beach
The climate at this beach during the summer months which begins in March and ends in June is extremely "hot" with the mercury rising to a maximum of about 35 degree Celsius. The rainfall received during the monsoon season which begins in July and ends in September is "moderate". While the winter season on the other hand which begins in October and ends in February is extremely "pleasant" with mercury dropping to a minimum of about 17 degree Celsius. So the ideal time to visit this place is during the winter season from October to February.
Things/activities to do
Apart from its scenic beauty that includes a serene environment, calm sea, and exotic marine life which must be enjoyed there are not many things/activities to do found at this beach. In close proximity, to this beach though lies a popular temple called "Ramanathaswamy" which is spread over an area of 151 acres of land.  Furthermore, this temple is worth visiting for the amazing sculpture and ancient art work belonging to the ancient Dravidian culture that it possesses.
Also Read: 2 Reasons Why Marina Beach is a "Foodie Paradise"
[amazon_link asins='8183221114,9386832070,0340693258' template='ProductGrid' store='beachesofindia-21' marketplace='IN' link_id='937b7afd-e89e-11e8-a6b1-9d9a01b3e29b']