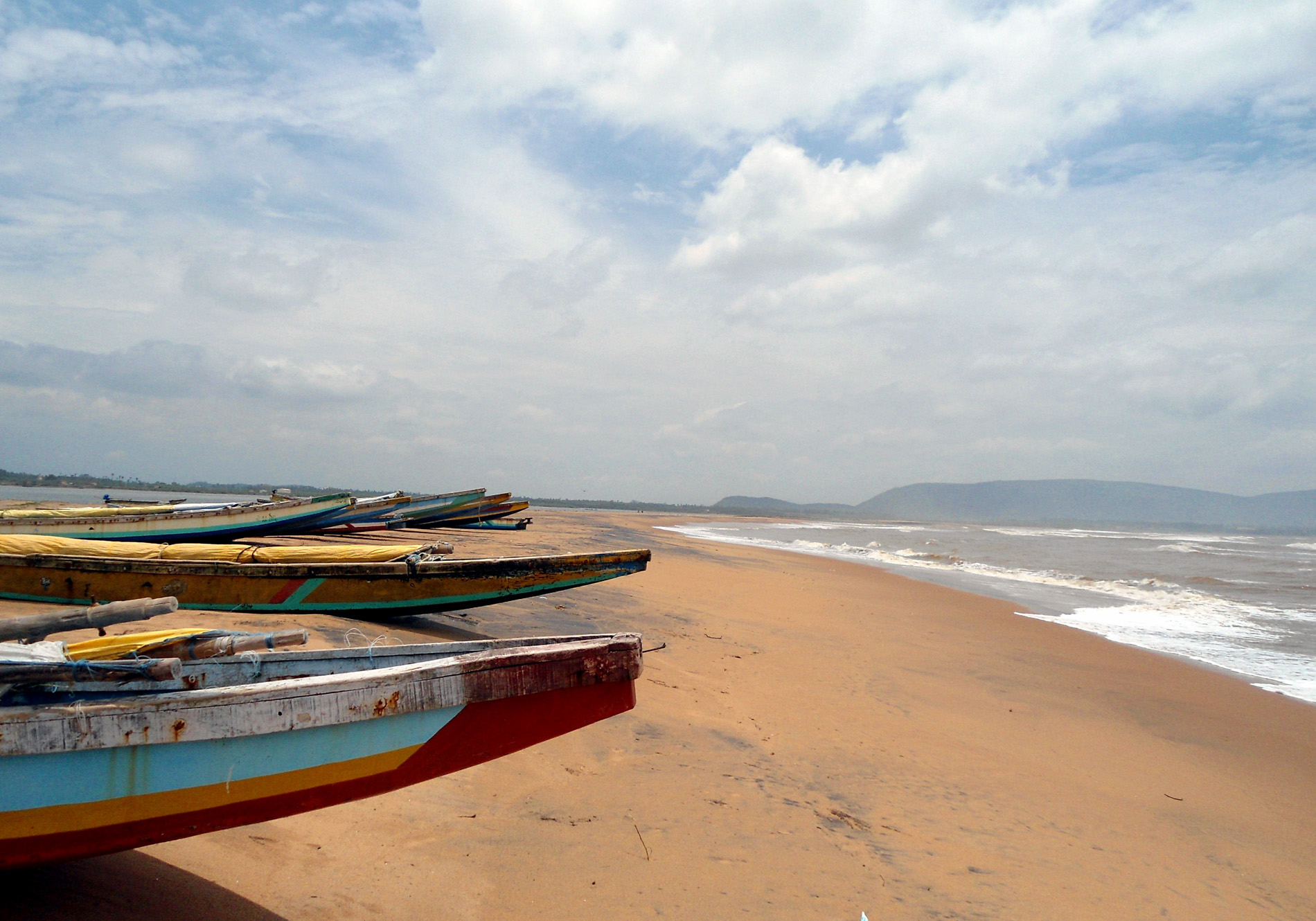 Bhimli Beach – Andhra Pradesh
Located in a village called Bheemunipatnam in the Visakhapatnam district in Andhra Pradesh is the scenic and pristine "Bhimli Beach". This beautiful beach is situated at the confluence of the river Gosthani. According to historical records, this beach was set up as a trading port by the British as well as by the Dutch. Additionally, this beach is also considered to be among the "safest" beaches for swimmers. So if you intend to thoroughly enjoy in the presence of "sun, sand, and water" then, this beach is a must visit.
Read More:  10 Popular Beaches in South India
How to reach Bhimli Beach? 
Bhimili Beach Map
By Train:
The nearest railway station to this beach is located in Visakhapatnam. The Visakhapatnam Railway Station is well connected to major cities in the country such as Mumbai, Chennai etc.
      2. By Bus:
There are a number of state operated (APSRTC) buses that connect Visakhapatnam to this beach.
      3. By Air:
The closest airport to this beach is located in Visakhapatnam. The Visakhapatnam or Vizag Airport is well connected to major cities in the country such as Kolkata, Mumbai, Delhi etc.
Climate and the best time to visit Bhimli Beach:
The climate during the summer which begins in March and ends in May being extremely hot with the mercury even touching a maximum of 45 degree Celsius at times. The rainfall received during the monsoons which begins in June and ends in September is generally heavy. The winter on the other hand which begins in December and ends in February is "pleasant" with, the temperature ranging from a maximum of 32 degree Celsius to a minimum of 18 degree Celsius. So, the ideal time to visit this beach so as to thoroughly its pristine environment and "safe" water is from October to March since, the climate is extremely pleasant during this period.
Places To Visit Around Bhimili Beach
There are number of interesting major tourist attractions located in and around this beach that must be visited. They are as follows:
Hollanders Green:
Hollander's Green is a Dutch graveyard located within the vicinity of the beach. This Christian graveyard is considered to be the oldest in Andhra Pradesh.
      2. Red Earth Hillocks:
Is a mini valley located in close proximity to this beach that closely resembles the infamous Chambal Valley.
      3. Churches:
There are couple of famous churches located around this beach. One church apparently built in the 1850's is called "The Red Church" while, the other church is known as "The Andhra Baptist" is supposed to possess a rich history of more than 130 years.
      4. Lighthouse:
A lighthouse supposed to have been built in the year 1868 is located on the shores of the beach. This lighthouse is a popular tourist hotspot.
      5. Lord Narasimha Temple:
A temple dedicated to a Lord Vishnu avatar (i.e. Narasimha) is located around this beach on a hill.
Also Read: Top 6 must visit Beaches in Puducherry
[amazon_link asins='8183221114,9386832070,0340693258' template='ProductGrid' store='beachesofindia-21' marketplace='IN' link_id='937b7afd-e89e-11e8-a6b1-9d9a01b3e29b']