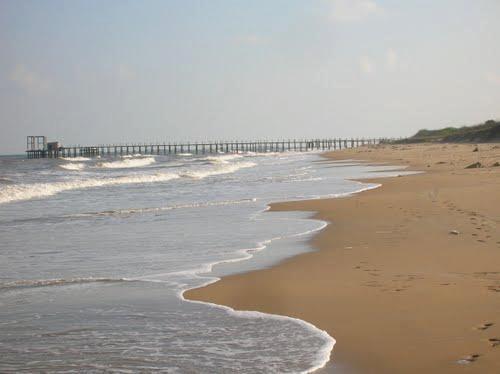 Kodur Beach – Andhra Pradesh
One among the few beautiful beaches located in Nellore in Andhra Pradesh is the "Kodur Beach". This pristine beach is located on the east coast in the Bay of Bengal. It is also known for its serene atmosphere and, for the pleasant "cool breeze" it receives. The famous VelanganiMaatha Church is located in close proximity to this beach. Additionally, this beach consists of a number of food shacks that provides for delicious fish items. So if you intend to enjoy a "pleasant and a serene atmosphere" then this beach is a must visit.
Read More: 10 Popular Beaches in South India
How to get there Kodur Beach: 
By train:
The nearest railway station to this beach is located in Nellore. The Nellore Railway Station is well connected to major cities in the country such as Chennai.
      2. By Road:
The nearest starting points to this beach would be Chennai and Hyderabad.
a. How to reach Kodur  Beach from Chennai : The shortest route to reach Kodur beach from Chennai  is via NH16 as depicted in the map above. Alternatively, click on the Google Maps link here to view on Google Maps.
b. How to reach Kodur  Beach from Hyderabad : There fastest route from Hyderabad  to Kodur  beach via NH16 and the route map is depicted above. Alternatively, click on the Google Maps link here to view on Google Maps.
      3. By Air:
The closest airport to this beach is located in Chennai. The Chennai Airport is connected to most of the major cities in the country.
Climate and the best time to visit Kodur Beach:
The climate in Nellore during summers which begins in March and ends in May is extremely hot with, the temperature ranging from a maximum 38 degree Celsius to a minimum of 22 degree Celsius. The rainfall received during monsoon which begins in June and ends in September is generally moderate. Finally, the winter months that begins in October and ends in February are extremely pleasant with, the temperature ranging from a minimum of 18 degree Celsius to a maximum of 32 degree Celsius. Therefore, the ideal time to visit this beach is from October to March, as the climate is extremely pleasant during this time.
Things to do/activities:
This beach includes one major tourist attraction along with a couple of things to do/activities. They are as follows:
Velangani Maatha Church:
This church dedicated to St. Mary is a major tourist attraction located around this beach. A number of ardent devotees visit this church to offer their prayers especially every Sunday.
      2. Boating:
Boating is an extremely popular activity at this beach made available to the public during the weekends. 
      3. Sunrise/Sunset views:
This beach provides for magnificent views of the "rising and setting" sun.  Such is the beauty of these views that they attract many tourists on a regular basis.
Accommodation – Hotels, Resorts and Home Stays in and around Kodur  Beach:
Click on the link here to check out the places to stay near Kodur beach, Andhra Pradesh  on Google Maps.
Also Read: THINGS TO KNOW ABOUT SURFING ON SOUTH INDIAN BEACHES
[amazon_link asins='8183221114,9386832070,0340693258' template='ProductGrid' store='beachesofindia-21' marketplace='IN' link_id='937b7afd-e89e-11e8-a6b1-9d9a01b3e29b']