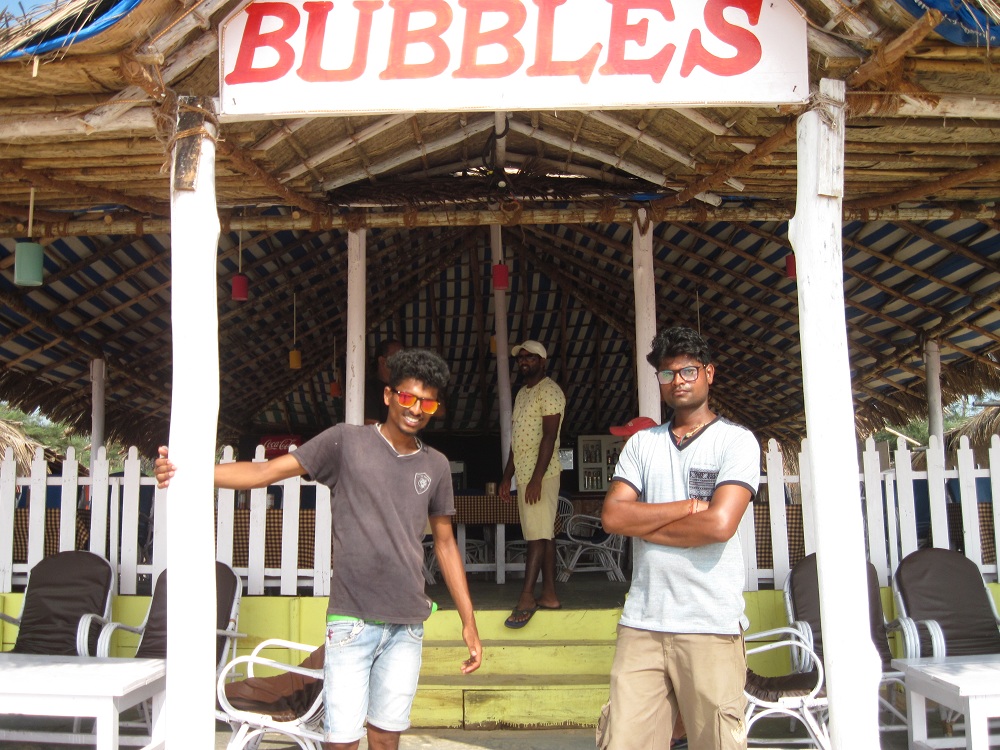 Calangute Beach and the "Bubbles" Cafe
As I was walking along the Calangute Beach in North Goa I suddenly hear a pleasant voice pleading "Sir please come to this cafe". On hearing this rather sweet voice I looked up and saw a young boy with sunglasses, who when asked for his name said he was Samir Sheikh. Now, after having settled down on a comfortable chair consisting of an umbrella (offered to me by Samir), I began chatting. Furthermore, it was within five minutes of conversing with this charming young man I realized that a good informative article can be written on the cafe (Bubbles) he is working as a waiter.  So, here is presenting some vital information about "Cafe Bubbles" located at the Calangute Beach.
Read More: DINNER AT BRITTOS IN BAGA
Calangute Beach Map


a. The location and "food" served at the Cafe Bubbles in Calangute Beach:
"This area in Calangute Beach on which this cafe is located is known as Cobro Vaddo" says the ever smiling Samir Sheikh to me. He further adds "This cafe is basically situated in exactly middle of this beach". When asked about the food served at this cafe he stated that "Seafood cooked in typical Goan style is what this cafe is popular for".  In terms of the other cuisines served at the cafe Samir stated "Chinese, Continental, and Indian are basically the other types of food served over here".  Probing further I ask Samir, how much would a meal cost for a single individual, to which he replied "About Rs 200 to Rs 300".
b. The "Drinks" served at the Cafe Bubbles in Calangute Beach:
When my conversation with Samir turns to alcoholic beverages served at the cafe, yet another waiter named Umesh Yadav joins the chat. So, I ask about the drinks served over here, to which Yadav not wanting to be left out asserts himself by stating "Beer, Whiskey, Brandy, Vodka, Gin, Feni, and Cocktails are mainly served over here".  In terms of the cost of the drinks served Yadav said the following:
In the case of beer, the cheapest is a local brand known as Kings at Rs 70, and the most expensive is Corona at Rs 350. Whiskey both national and international brands are served over here. In among the national brands, the most cheapest is Blender's Pride at Rs 130 for 60 ml, and most expensive is Teachers at Rs 250 for 60 ml. Among the international brands, the most expensive is Chivas Regal at Rs 500 for 60 ml, and most cheapest is Black Dog at Rs 280 for 60 ml. Vodka is also served over here and includes Smirnoff at Rs 130 per 60 ml, and Absolute Vodka at Rs 400 per 60 ml with Green Apple, Pineapple, Mango, Strawberry, and Lime being the flavours available. The local Goan drink Feni is served over here at Rs 80 per 60 ml. In addition, Blue Ribbon Gin at Rs 80 per 60 ml, and cocktails pinacolada and Mojola costing Rs 300 and Rs 350 are also served over here.
c. The "Best season" and the money made at Cafe Bubbles in Calangute Beach:
As for the best season to do business, Samir commented "Mainly the months beginning from December and stretching to April is when business reaches its peak". I then out of curiosity ask about the business that this cafe does in general,  a question that is once again assertively answered by Yadav who comments "During the peak season a minimum of about Rs 10,000 can be made while, a minimum of about Rs 3000-Rs 4000 can be made during an off season.
Having completed an appetizer in the form of a plate of Chicken Chilly along with a bottle of local Goan beer Kings, it was time to leave this wonderful cafe (to explore Baga Beach) carrying along some sweet memories related not only to the "food and drink" served but, also of the extremely charming aura radiated by the personality of Samir.
Also Read: SOME BUDGET ACCOMMODATIONS AROUND GOAN BEACHES
[amazon_link asins='8183221114,9386832070,0340693258' template='ProductGrid' store='beachesofindia-21' marketplace='IN' link_id='937b7afd-e89e-11e8-a6b1-9d9a01b3e29b']