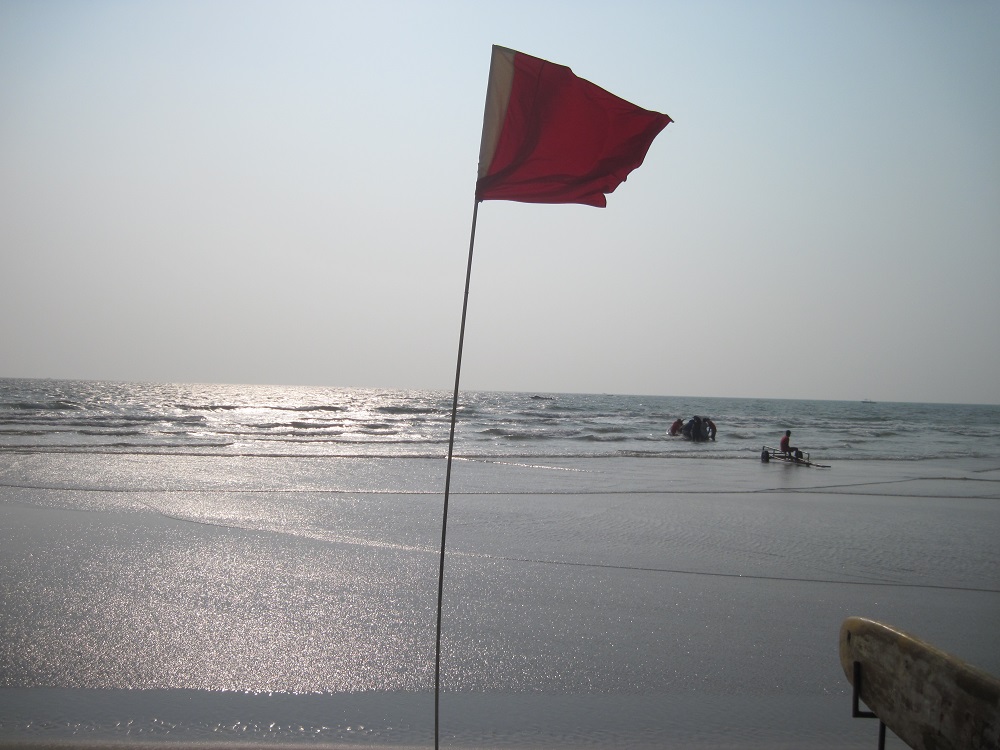 Candid chat with a Lifeguard on a Goan Beach
It was while exploring the beautiful beaches in the state of Goa in India, that I observed the presence of lifeguards. Now, having seen them at all beaches I wondered what exactly was the function of these lifeguards? So, to satisfy this curiosity I decided that the best way would be to ask an actual lifeguard about his profession and gain invaluable insights. It was thus eventually at the picturesque Utorda Beach in South Goa, that I decided to talk to a lifeguard named Ganesh. Furthermore, it was after a chat of about 20 minutes with him that I obtained some important and revealing information about lifeguard as a profession. Here, is presenting a few key facts about this profession that I obtained during this intriguing conversation with Ganesh, that a traveler needs to know.
Read More: HOW SOUTH GOA BEACHES DIFFER FROM THOSE IN NORTH GOA?
Utorda Beach
1.  The basic function of a lifeguard:
"Guidance and emergency rescue" is the basic function of a lifeguard said Ganesh when I asked him to explain the function of  his job profile. Furthermore, he also stated that in this profession an individual needs to possess an in depth understanding of the use of first aid. When asked about the kind of  understanding that is needed in this job he replied that " It mainly requires an individual to possess basic knowledge in CPR (Cardiopulmonary Resuscitation)".  In terms of guidance, Ganesh says that "A lifeguard also is supposed to make people aware about the zones in the sea that are safe as well as unsafe for activities such as swimming and water sports".
2. The test and training involved in becoming a lifeguard:
On probing further Ganesh revealed that " To become a lifeguard one needs to initially pass a test and then undergo training". When asked about the test he replied that "It basically is an examination of an individual's swimming skill, in which a candidate needs to swim at a distance of 400 meters in about 11 minutes in order to pass it". Furthermore, he adds that "After passing the test the candidate is then put through a vigorous three months training sessions".  When asked about the specific details of these sessions, Ganesh explained it as follows
a. First one and a half month: (Swimming session)
The training (according to Ganesh) begins with intense swimming sessions in a pool. He adds further that "These sessions include development of skills related to swimming efficiently". Once this session is satisfactorily completed he states that the "candidate is awarded a certificate and then selected for the second stage".
b. Second one and a half month: (Beach session)
It is at this stage according to Ganesh that the candidate is then  taken to the beach and given  comprehensive training in rescue management. When I probe further about specific details of this session he says that "It mainly includes a proper understanding of first aid technique such as CPR, and how to handle dangerous currents in the sea". He then concludes by stating that "Once this session is completed a candidate finally becomes an "official lifeguard".
3. The equipment's typically used by the lifeguard:
"Rescue tube and board" is what is mainly used by lifeguards (says Ganesh) at all the beautiful beaches in Goa. When I question him about the function of these equipment used, he describes them as follows:
a. Rescue Tube:  
This tube is used for rescuing a drowning person. The lifeguard has to tie it around the waist of the individual drowning in the sea so as to carry him or her on to the shore to safety. It's made of some kind of floating material which is light and easy to carry. This tube is usually a bright red or orange in colour so as to be spotted easily from a distance.
b. Rescue Board:
This equipment is called the 'Rescue Board' and is used is a board that helps to transport a drowning person from the sea to the shore. It basically resembles a surfing board but is slightly heavier and mostly made out of wood.
4. The "flags" used by lifeguard on beaches:
As my extremely interesting and informative chat with Ganesh reaches its climax he tells me that "Flags also form a major component of the equipment of a lifeguard".  When I ask why is it that these flags are so important for lifeguards, he states that it helps them demarcate various zones in the sea, and thereby help provide appropriate safety precautions to people at the beach.
Furthermore, out of curiosity I then ask him what these zones are and what kind of flags are used to represent them? In response, he explained it very clearly as follows:
a. Danger Zone:
Flag Used to represent: The Red Flag
Now, according to Ganesh this zone on the beach is extremely dangerous for swimming because of the presence of strong currents capable of sucking a human deep into the sea water. Hence, this zone represented by a red flag  should be avoided at  all costs.
b. Low Risk Zone: 
Flag Used to  represent: The Yellow Flag
This zone is "safe" according to Ganesh since the currents of the sea in this area is not as strong as those found in the danger zone. However, there are times when strong currents may also be experienced, and hence swimming can be undertaken in this zone but with lots of care.
c. Safe Zone:
Flag used to represent: The Half Red, Half Yellow Flag
"Completely safe" is what this zone can best be described as (according to Ganesh), since the current of the sea water available in this area is extremely mild. And so he says that an individual can safely swim in this area without any worry in the world.
d. Water sport Zone:
Flag used to represent: The Half Black, Half White Flag.
In this zone, Ganesh says that swimming is completely not allowed since it is reserved only for water sport activities.
So, with my interesting conversation with Ganesh at the Utorda Beach having finally ended, here is hoping that these "lifeguards" continue to prove to be the "knight in shining armor" during an emergency for people visiting the beautiful beaches in Goa.
Also Read: POPULAR AND DELIGHTFUL GOAN DELICACIES

[amazon_link asins='8183221114,9386832070,0340693258' template='ProductGrid' store='beachesofindia-21' marketplace='IN' link_id='937b7afd-e89e-11e8-a6b1-9d9a01b3e29b']