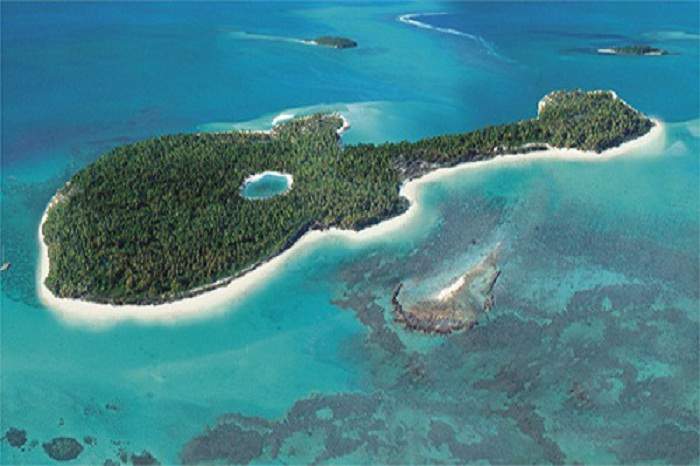 Guitar Island Beach – Andman And Nicobar
Shaped in the form of a "Guitar" and located on Long Island in Andaman and Nicobar is the beautiful Guitar Island Beach. This beach like many others located in Andaman possesses crystal clear water and an extremely tranquil filled environment. Additionally, the island located just opposite to this beach is referred to as the "Small Guitar Island". So, if you intend to plan a vacation to completely relax and disconnect from the stresses of life then this beach is an ideal destination to visit.
How to get there Guitar Island Beach? 
By Water:
There are regular speed boat services that operate three times a week from Port Blair that travel up to Long Island. On arrival at Long Island a "Dinghy Boat" needs to be used to get to the beach.
     2. By Bus:
There are a number of bus services available from Port Blair that connects to Rangat, a village that lies in close proximity to Long Island. From this village boat services to Long Island are available.
     3. By Air:
The nearest airport to this beach is located in Port Blair. The Port Blair Airport is well connected to major cities in the country such as Mumbai, Kolkata etc. 
Climate and best time to visit Guitar Island Beach:
The summer months at this beach which begins in April and ends in June comprises of temperatures ranging from a minimum 25 degree Celsius to a maximum of 35 degree Celsius. The rainfall received during the monsoons which begins in July and ends in September ranges from moderate to heavy. Finally, winter begins in October and ends in March with, the climate being extremely pleasant and, temperatures ranging from a minimum of 20 degree Celsius to a maximum of 34 degree Celsius. So the ideal time to visit this beautiful beach is from October to March as during this period the temperature is ideally suited for activities such as swimming and snorkelling.
Things/activities to do:
The water surrounding this beach is generally calm making it an ideal "swimmer's paradise". Apart from swimming, the tranquil environment of this beach makes it an ideal spot for relaxation in complete seclusion.
Interesting Fact:
In close proximity to the picturesque Guitar Island Beach in the Andaman and Nicobar Islands lies a picturesque beach known as "Small Guitar Island" that is worth visiting. In fact, during low tides both the beaches mentioned above are connected to one another due to the formation of narrow sand bars. Additionally, an island known as 'Long Island' is also situated  a short distance from this beach. It basically comprises of three small villages known as Long Village, Middle Village, and Lalaji Bay.  It is commonly used as a spot for 'beach camping'. Havelock Island also extremely popular in this region. In fact, the Government of India is using this island to promote 'Eco tourism' in a big way.