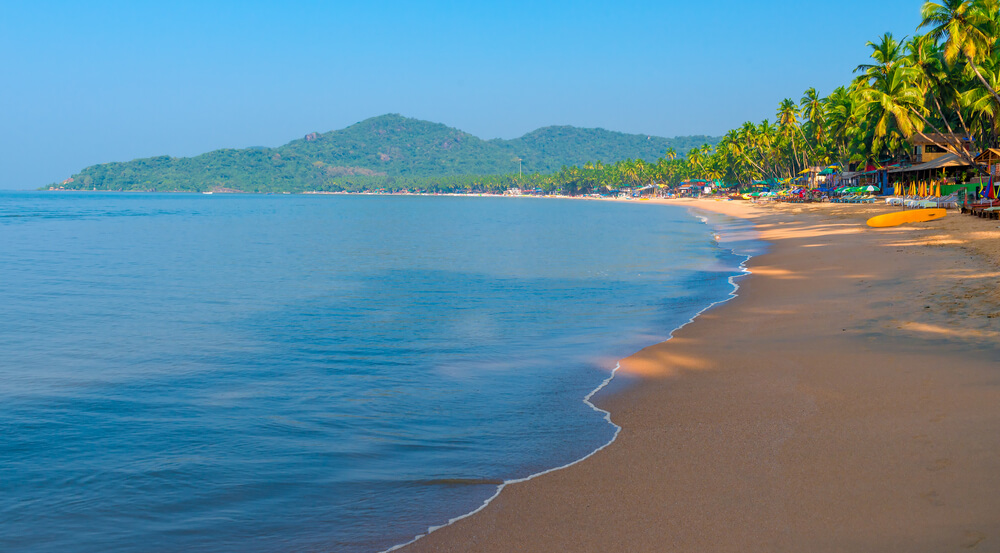 Palolem Beach – Goa
Famous for 'parties and a vibrant nightlife' is the Palolem Beach located in the Canacona area in South Goa. According to the TripAdvisor.com website, this beach was rated as the 8th best beach in Asia and the 2nd best in India. In addition, this beach, renowned for its natural beauty and the pristine environment, was used as a location in the 2004 released Hollywood thriller 'The Bourne Supremacy' starring Matt Damon.
How to Reach Palolem Beach
By train:
The nearest major railway station located to this beach is in Madgaon at a distance of 43 km. The Madgaon Railway Station is well connected to major cities in the country. Also, there are some trains with stops at other Goa railway stations like Tivim (Thivim) & Karmali.
By road:
People travel to Goa from Mumbai, Pune, Bangalore and other cities in Maharashtra and Karnataka. NH66 is the main artery running through Goa and passes through Panjim and Madgaon bypass. Most tourists travelling from Mumbai take this route. People coming from or through Pune and Bengaluru take the NH48 and enter Goa at three entry points
Via NH-66
This route includes Margao Bypass, Mandopa Road, MDR49 before finally reaching Palolem Beach.
By air:
The closest airport to this beautiful beach is located in Dabolim. The Dabolim Airport is well connected to major cities in India as well as major international destinations. Palolem beach is 61 Kms from Dabolim airport and it takes around 1 and half hour of commute to reach there by road.
Climate and the best time to visit Palolem Beach
The ideal time to visit this beach is from November to February during the winter season. The winter season which begins in November and ends in February is very pleasant with the temperature ranging from a maximum of 28 degree Celsius to a minimum of 21 degree Celsius.The climate at this picturesque beach during the summer months which begins in March and ends in June is generally hot and humid with the average of temperature of 35 degree Celsius being recorded. The rainfall received during the monsoon season which begins in June and ends in September is heavy. During the monsoons, the influx of tourists reduces since the sea is a bit rough and its raining most of the time.
Things/activities to do
There are few things/activities worth exploring while visiting this beach. They are as follows
Picturesque environment and Sunbathing
This beach is extremely scenic and possesses a pristine environment that is truly worth enjoying. In addition, all resorts located at this beach provides for sun beds thereby making sunbathing a popular activity amongst many tourists. 
     2. Dolphin Spotting
There are boat rides available at this beach that provides for dolphin spotting. Viewing these dolphins and their streamlined bodies is an enthralling experience that must not be missed.
      3. Party Culture
A popular disco located at this beach called "Silent Night Disco" provides for some lavish night parties. Furthermore, the party lovers at this disco dance to music played on headphones. These fun filled parties are usually organized during the end of the week mainly on Thursdays and Fridays.
      4. Adventure and water sports
Adventure Sports such as trekking tours are provided by an adventure company called "Goa Jungle Adventure"at this beach. In addition, activity such as scuba diving is also provided for at this beach. Furthermore, water sports such as "kayaking" is also provided for at this beach. According to the service provider Dinesh Vaghela "A single seat kayaking boat cost Rs 300 while, a double seat boat cost Rs 500".
5. Dropadi Bar and Restaurant: 
"Providing for a picturesque view of the seaside" is the Dropadi Restaurant and Bar located on the beautiful Palolem Beach. Situated on the Main Street in Canacona district in South Goa, this restobar serves up for some delicious seafood and a variety in alcoholic beverages. According to the popular restaurant search web service Zomato "The delicacy Crab Masala with shell is highly recommended".  Furthermore, as per Zomato a decent meal for two cost about Rs 800.
6. Rickshaw, Taxi stand, and Paid Toilet:
Located in close proximity to this beach is a rickshaw and taxi stand that provides for travel options. In addition, there are also services pertaining "renting a two wheeler" that are available around this beach. A paid toilet is also situated in close vicinity of this beach.
7. Handicraft products stalls and general stores: 
There are a number of stalls located around the palolem beach that sell handicraft products, bags, hats, swimming costumes etc. There are also a number of general stores that sell water, soft drinks, biscuits, wafers etc that can be found in close proximity to this beach.
Tips and Recommendations:
The Palolem Beach is located in a remote area, and hence facilities such as ATM's are not available. So, it would be advisable for those interested in visiting this beach to carry along cash .