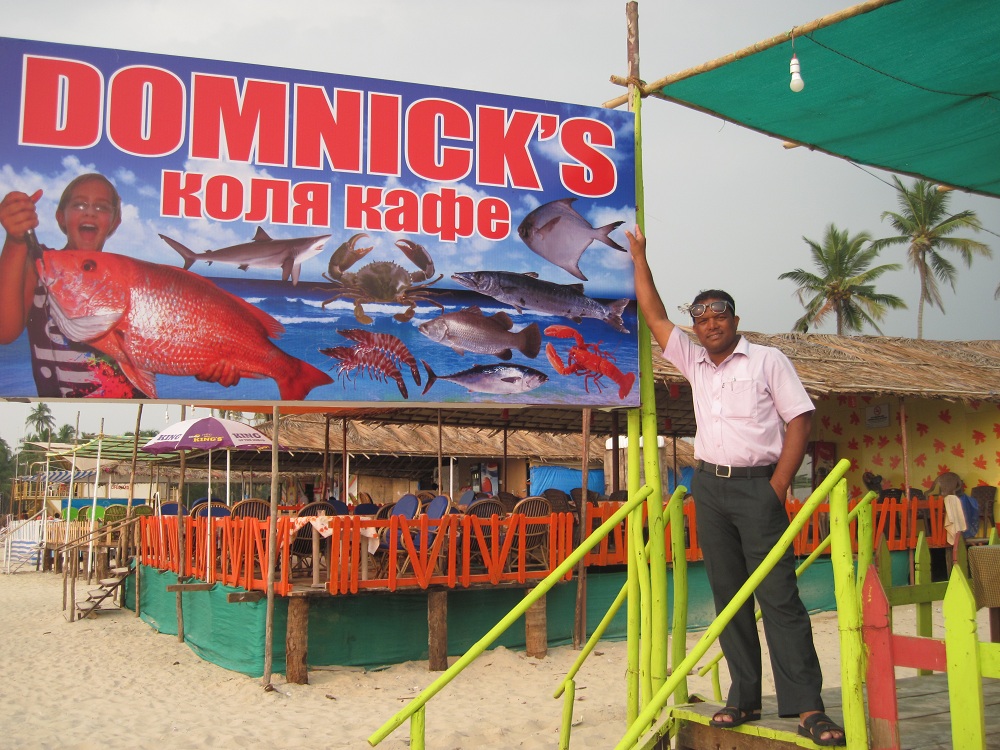 A Shack Named "Dominick's" At Colva Beach
During my wonderful trip to Goa I visited the Colva Beach situated in the south of the state. No sooner did I arrive at this scenic beach, that I began taking pictures. In the process of taking pictures of the beach itself I also attempted to took a few of a shack called Dominick's.  Now, just as I was about to click a picture of this shack, a man working at this place named Samir MD (originally from Odisha)  asked me "Who I was and what was my intention". In response, I explained to him that I was a journalist from Mumbai working for a media company AskGalore looking for a story. He then replied "That looking at you holding a pen, book, and camera I did think you are a writer".  I was then told by Samir that if I needed any information about the shack then, it would be better to speak directly to the manager named Matthew. And so, here is presenting an informative chat about the shack that I had with the manager along with a complementary bottle of beer that he offered me.
Read More: Few Essential Facts about Goa Beaches
Colva Beach Map


a. About "Dominick's Shack" and Matthew:
To begin this rather informative and what also turned out to be an interesting chat I ask Matthew "What is the most popular cuisine served at this shack". He replied "The cuisine consumed the most at this shack is mainly seafood cooked in typical Goan style". He further adds "This shack is actually owned by his brother Dominic, while he is managing the business". During the conversation, he also states that he is currently a member of the "Sports Authority of Goa", a state government managed sporting body, and hence will not be able to provide me with his photograph for this article.
b. The "Food" available at the "Dominick's Shack" and range of prices:
According to Matthew "Seafood comprising of fish such as surmai (king fish), pomfret, lobsters etc are mainly offered over here". He adds that "The cuisine popular at Domnick's is usually typically Goan in style, and is mainly prepared using homemade masala". He also mentions that "Customers are first offered an array of fishes to select from, and then once chosen the fish is cooked and served hot". When asked about the economics behind the pricing of seafood he said "The price of a delicacy varies as per the market price of the fish on a given day". In addition, I also ask him about the average cost of a typical Goan seafood meal for two at this shack, to which he responds by stating that "In about Rs 500 to Rs 700 a decent meal for two individuals can be had".  As for the other types of cuisine served at this shack, he said that "Chinese, Indian, and Italian pasta" are also extremely popular with costumers". In terms of prices, Matthew says that "Indian food cost Rs 280 for a plate, Chinese cost about Rs 150 to Rs 200, and Italian pasta cost Rs 200 to Rs 250 respectively.
c. The "Drinks"  served at the "Dominick's Shack" and the range of cost: 
Like most other shacks in Goa, this too provides for a variety of alcoholic beverages such as beer, feni, whiskey, vodka, gin, and rum. On asking about the brands served in terms of whiskey Matthew said that "They serve both national and international". The cost for a national brand such as Royal Challenge is about Rs 200 to Rs 250 per 60 ml while, for international brands such as Johnny Walker, Chivas Regal, or Jack Daniel it is about Rs 400 per 60 ml. He also adds that "Feni, the local Goan alcoholic beverage is the most cheapest at about Rs 40/Rs 50 per 60 ml and is also popular". Interestingly, he also further stated that "Many times a costumer prefers to buy a full bottle of whiskey rather than just a glass, and so under such circumstances we provide a discount of about 20% (i.e. about Rs 600 off)".  This offer is valid for both national as well as international brands according to Matthew.
d. The "Candle Light" Factor at the "Dominick's Shack":
"Candle light dinner" is a unique service provided at Domnick's shack (also available in restaurants such as Brittos in Baga) located at the Colva Beach in South Goa. According to Matthew "After 6 in the evening as soon as the sun sets they provide tables comprising of "candlelight" alongside the beach". When asked about the cost of this unique service he said that " The prices are as given on the menu card (i.e. A la carte) with not extra charges applicable".
Having completed my beer, I bid adieu and sincerely  thanked  Matthew for  providing me with all  the necessary information  that was required to write an article about this shack.  Furthermore, having personally myself experienced the food, drink, and ambiance provided by this shack, I can definitely say that if any traveler is interested in having delicious sea cuisine that too under a romantic "candlelight" setting, then "Dominick's" is a shack worth visiting.
Also Read: Why are Goan Beaches so Popular?
[amazon_link asins='8183221114,9386832070,0340693258' template='ProductGrid' store='beachesofindia-21' marketplace='IN' link_id='937b7afd-e89e-11e8-a6b1-9d9a01b3e29b']