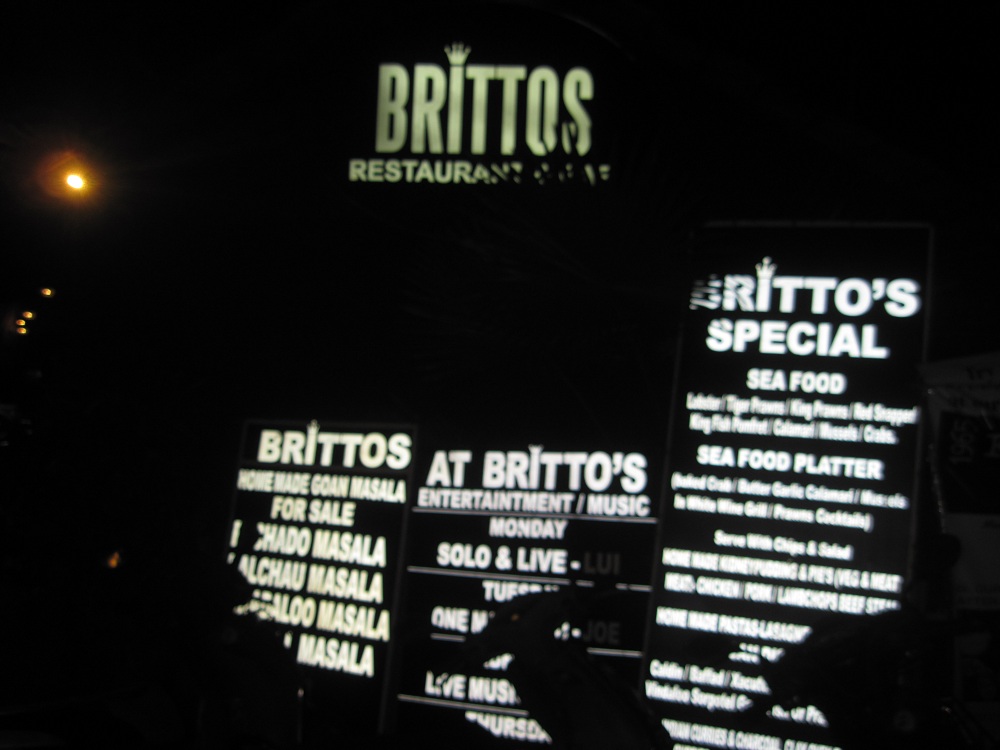 Dinner at Brittos in Baga
"Class personified" would be the best way to describe the ambiance of  "Brittos Bar and  Restaurant" situated in close proximity to the  Baga Beach in North Goa. It was after covering the "Calangute, Vagator, and Anjuna" beaches on my trip to Goa that I eventually decided to have my dinner at this extremely popular restaurant. Settling down to "fast tempo" English music playing in the background, I quickly ordered for Goan fish curry, rice, and a bottle of Kingfisher strong beer. Furthermore, it was after I completed an extremely scrumptious meal that I decided to talk to manager Rajesh Nayak (belonging to Odisha), and obtain some useful information pertaining this absolutely wonderful restobar. So, here is presenting an absolutely informative conversation that I had with the manager that provides for valuable insights about this restaurant.
Read More: Few Essential Facts about Goa Beaches
a. Information regarding "Brittos" the type of food served, and the cost range:
"Established in 1965" said the extremely soft spoken manager Rajesh of this extremely popular restaurant and bar located in close proximity to the Baga Beach. He further adds that "Brittos has another fine dining outlet located in Calangute market area". When asked about the cuisine served in this restaurant Nayak stated that " Goan Seafood, Indian food, Continental food, and Chinese food are basically served over here".  In addition, I also asked what is the specialty of this restaurant, to which he answered "Goan seafood particularly fish curry and rice (coincidentally this was what I had ordered for dinner). Furthermore, when asked about Indian cuisine, he tells me that it mainly includes mouth watering delicacies such as Biryani, Butter Chicken, Rogan Josh etc.  He also goes on to tell me that the desserts such as pastries, chocolate, mousse, cheesecake etc are also extremely popular with the customers. Finally, I ask Rajesh about the approximate cost for a meal that could satisfy an individual or a couple, and his response was "For a single person a meal would cost about Rs 500 to Rs 1000 while for a couple it would range from between Rs 1,500 to Rs 1,600".
b. The type of  drinks served at "Brittos" and the range of cost:
In terms of alcoholic beverages Rajesh said that "The most popular drinks consumed at Brittos is mainly whiskey and beer". I further ask him about the most popular beer served over here, and he replied that "Kingfisher and Heineken are consumed the most". As for the prices, he states that "Kingfisher small bottle cost Rs 120 while large cost Rs 150 and Heineken cost Rs 150". As for whiskey availability he said that "National as well international brands are served over here". He further added that "In the case of national brands Royal Stag priced at Rs 120 per 60 ml and Black Dog priced at Rs 280 per 60 ml are the cheapest and expensive drink available while, in case of international brands Johnny Walker Red Label at Rs 350 per 60 ml and Johnny Walker Blue Label at Rs 2,400 per 60 ml are the most cheapest and expensive respectively".
c.  The "Hookah" and the "Candlelight" services provided at "Brittos:
"Candlelight dinners" is what Brittos also offers to its costumers Rajesh told me as our conversation veers towards the USP (i.e. unique selling point) of this beautiful restaurant. He said that "Tables consisting of candlelight after sunset (i.e. around 06.30 pm) are set up on the beach for customers". Apart from food, he states that this "candlelight" service also provides for "hookah" sessions for those interested in smoking flavoured tobacco. When asked about the cost of this hookah session he stated that "We charge Rs 500 per hour".
d. The "Karaoke" Session held and music played at "Brittos":
Yet another striking feature that stands out about "Brittos" is the Karaoke session. When asked about the schedule of this unique session filled with music Rajesh said "It is usually conducted from Wednesday to Sunday". He further stating that "Bony is the name of the singer who manages this session on a regular basis". Additionally,  music  played in the background also helps creating a vibrant atmosphere within this restaurant. For example, while eating my dinner I found that I could not help but tap my feet to the beats of  the Enrique Iglesias song "Tonight I'm lovin you".
As this interesting chat with Rajesh nears it conclusion I ask him about the best season for business, which he responds in his usual soft tone by stating that "The months of December to February is when customer influx peaks with a majority being international tourists". However, he added that "Throughout the year Brittos mainly attracts a large number of  Indian tourists".  So, as I finally complete this rather interesting conversation with Rajesh I ask him for his picture at the bar, which he readily obliges with a shy smile, and then I walk out of this wonderful restaurant called "Brittos" having experienced great dinner and ambiance,  in search of yet another story.
Also Read: Top 10 must see "Beaches in Goa"
[amazon_link asins='8183221114,9386832070,0340693258' template='ProductGrid' store='beachesofindia-21' marketplace='IN' link_id='937b7afd-e89e-11e8-a6b1-9d9a01b3e29b']