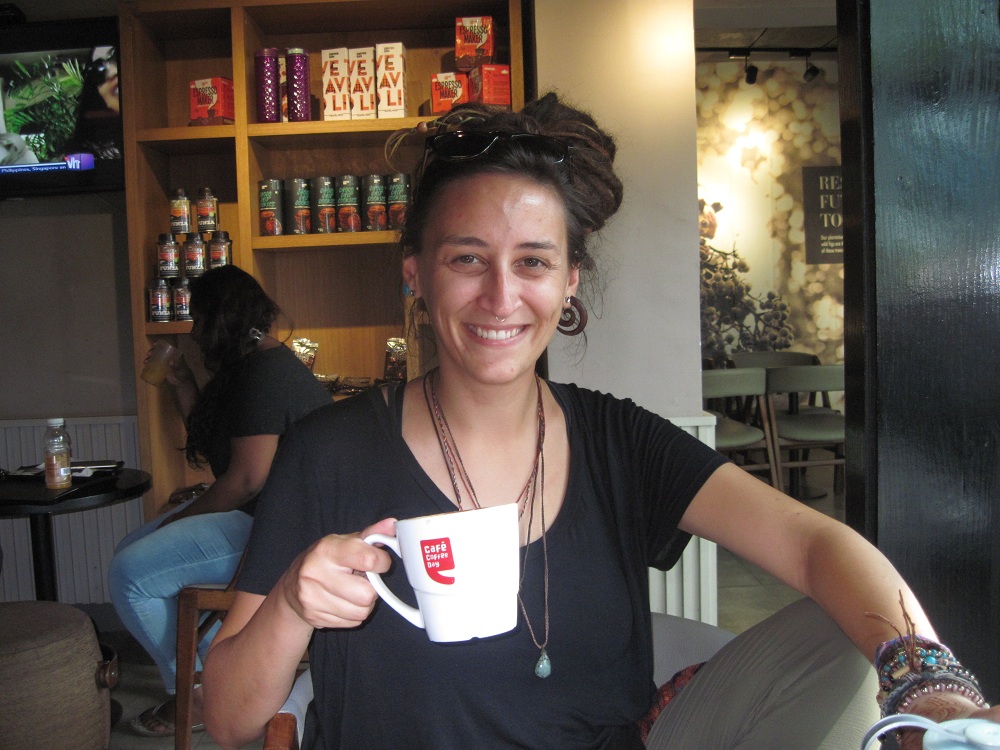 Maddy, a Canadian at Miramar Beach
"Possessing a radiant smile and a charming personality" would be the best way to describe Maddy, a Canadian tourist I met at a coffee shop during the course of my visit to the Miramar Beach located in Panjim in North Goa. This chance meeting happened, when after having visited the beach I decided to have light lunch at the Cafe Coffee Day outlet. It was at this rather small coffee shop that I noticed her, focusing intensely into her laptop with headphones on. She had a charming aura about her and I was prompted to approach her for a short exclusive article for the website blog. So, here is presenting an interesting conversation that organically took shape between Maddy and me at this small coffee shop situated in close proximity to the Miramar Beach.
Read More: Few Essential Facts about Goa Beaches
a.  About 'Maddy':
"Mathilde" is the original French name of Maddy, as she is known by friends and family, and hails from the predominantly French speaking province called "Quebec" in Canada. When I asked her about this region she said "Quebec is  geographically extremely large, and yet a majority of this area is uninhabited". Furthermore, when I inquired about her personal life, she says "My husband is also a Canadian, and we met while we were travelling in Indonesia". In addition, when asked about her better half, she added that he is into electronics engineering.
b. The reason behind her visit to Goa, and past experiences in India:
When asked about the reason behind this Goa trip, she said "My husband is working with an electronic company in Panjim, and hence this visit". She further adds that "We arrived in India in July, and are most likely to return to Canada towards the end of November when the contract expires". I also asked her as to whether this was her first visit to India, to which she responded by saying "I had come to India in 2016 for the first time and visited a few north Indian states such as Rajasthan, Himachal Pradesh, and Jammu & Kashmir". Probing further, I ask her to describe her experience of the Indian culture, and she said "It has definitely been great but, one must mentally be prepared for the chaos that this country challenges you with". In addition, she also statesdin a affirmative tone that "I would definitely recommend other to visit India".
c. Her personal experiences on Goan Beaches:
"Not a beach person" is how Maddy describes herself , and hence when asked about beaches in Goa she does not add much. However, she does admit to being passionate about "scuba diving", the only beach activity that she likes. With regards to traveling to Goan beaches she says that "I have visited "Miramar, Utorda, Baga, Arambol, and Anjuna". In fact, she states that "Since my husband has been really busy with his work, I have kept myself occupied by volunteering to clean up the Miramar and Utorda Beach". She even adds that "In order to drive boredom away, reading books, drinking coffee at cafes etc are a few other activities (apart from being a volunteer) that she has often indulged in during her stay in Goa". When asked about whether there is an intention to visit any other beach in Goa she says "A trip to Morjim located in North Goa is on the cards".
Having completed my lunch that included a sandwich and expresso coffee, it was time to bid goodbye to this beautiful Canadian lady named "Mathilde" also called Maddy by friends and family. And so as a parting shot I say that her husband is an extremely lucky man to have a woman like her in his life, to which she emits an extremely charming smile and says "Yes, I know it and so does he".
Also Read:  Why are Goan Beaches so Popular?
[amazon_link asins='8183221114,9386832070,0340693258' template='ProductGrid' store='beachesofindia-21' marketplace='IN' link_id='937b7afd-e89e-11e8-a6b1-9d9a01b3e29b']