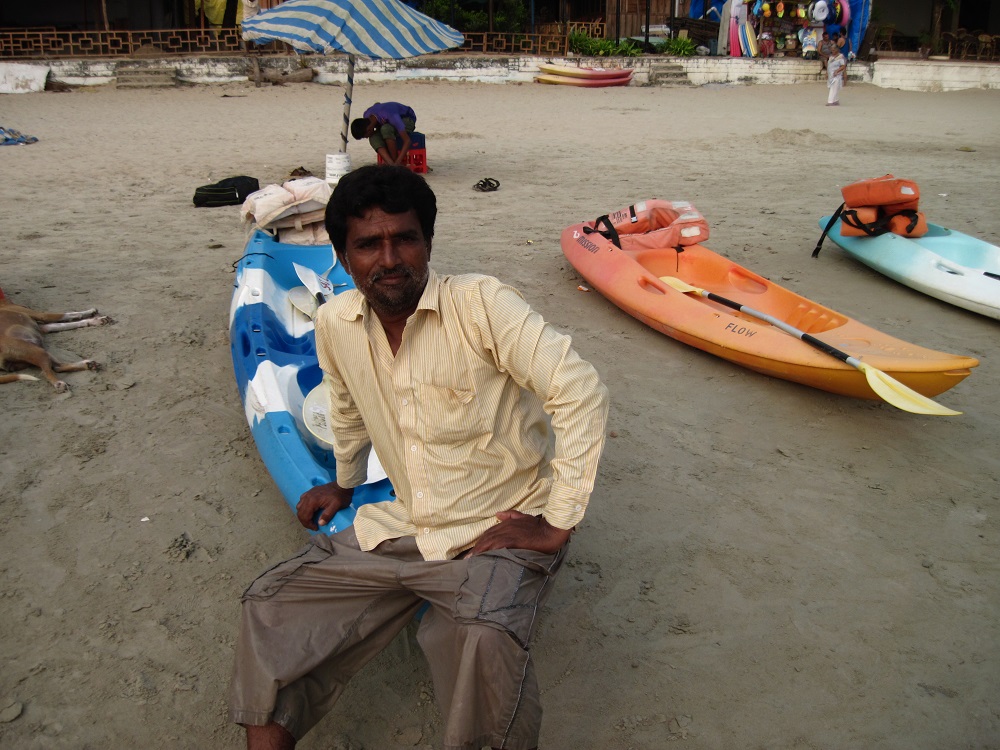 The "Kayaking Man" of Palolem Beach
Kayaking is a form of water sport that is extremely popular in many beaches in India. Now, this form of water sport is readily available on many of the picturesque beaches situated in the state of Goa. One such beach in the state that is known for kayaking is Palolem located in the Canacona Area situated in the south. On this extremely scenic and pristine beach, kayaking is provided to tourists by a 48-year-old man named Dinesh Vaghela, who is supported when possible by his 15-year-old son Prakash Vaghela. So,here is presenting a few essential facts about this man as well as key information related to kayaking at the Palolem beach.
Read More: 2 WATER ACTIVITIES AT PALOLEM BEACH
1. The 'Background' of Dinesh Vaghela:
Originally belonging to the Kathiawar peninsula in the Saurashtra region in the state of Gujarat, Dinesh Vaghela arrived at the Palolem Beach only about eight to nine years ago. Furthermore, he left his home in order to seek out better opportunities for his family that includes a 15-year-old son Prakash. In addition, Dinesh currently resides within the Canacona Area in close proximity to this beautiful Palolem beach. His son who is currently undergoing Secondary Education schooling also assists his father when possible.
2. The 'Business' of Kayaking on the Pallolem Beach:
According to Dinesh "The business of Kayaking at the Palolem Beach varies according to the season". So, in other words it increases according to the demand for a particular season. When asked about the season in demand Vaghela replied "The months ranging from November and December is when demand reaches its peak at the Palolem Beach". Furthermore, he also mentions that "Christmas and New Year days respectively also see a spike in demand for kayaking". As for the tourists he states that "Kayaking on this beach is equally enjoyed by both domestic as well as foreign tourists".  In terms of fees/charges he says "that it remains the same irrespective of whether it is peak season or not". As for the fee structure itself, he provides for two options, and they are as follows:
a. A single Kayaking boat which is for a single rider- Rs 300
b. A double Kayaking boat which includes two riders (inclusive of Vaghela himself)- Rs 500
In addition, as a parting shot when asked whether he enjoys his job Vaghela honestly states that "This job is more a matter of necessity than of choice, and hence feeding my family and not experiencing joy is the priority".
And so if any traveler wants to have a great time "kayaking" in the water surrounding the beautiful Palolem Beach in South Goa then I can assure you (from personal experience) that Dinesh is the "Kayaking Man" to look out for.
Also Read:  Why are Goan Beaches so Popular?      
[amazon_link asins='8183221114,9386832070,0340693258' template='ProductGrid' store='beachesofindia-21' marketplace='IN' link_id='937b7afd-e89e-11e8-a6b1-9d9a01b3e29b']