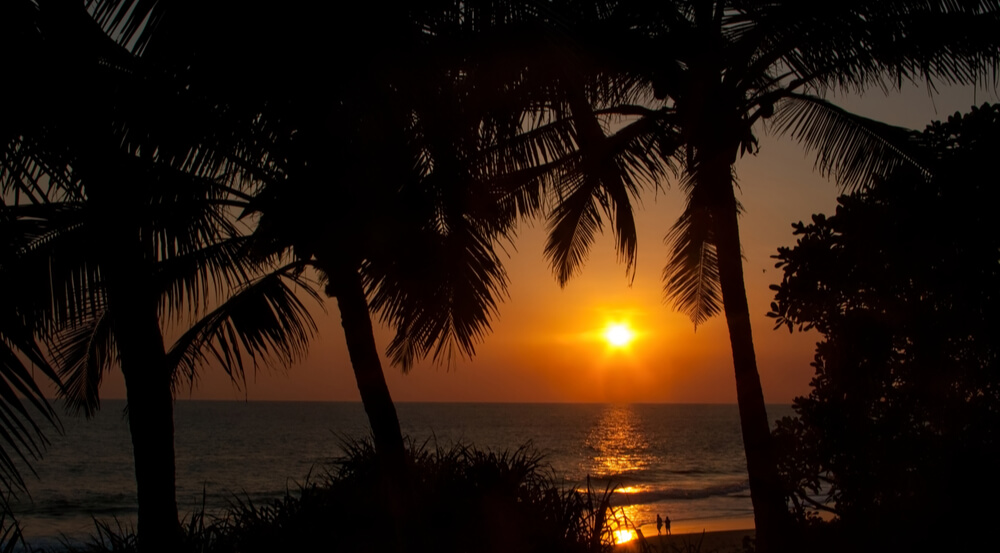 Chowara Beach – Kerala
Considered to be a "working beach" (i.e. a beach visited frequently by the people who live around it) is the extremely scenic Chowara Beach. This beautiful and pristine beach is located at a distance of 6 km from the main Kovalam Beach. In close proximity to this beach on top of a hill lies a temple dedicated to Lord Ayyappa. In addition, this beach due to its tranquil and picturesque beauty is considered to be one of the best "honeymoon destination" in the country.
Read More: THINGS TO KNOW ABOUT SURFING ON SOUTH INDIAN BEACHES
How to reach Chowara Beach
By train:
The nearest railway station is located in Thiruvananthapuram itself. The Thiruvananthapuram Railway Station is well connected to major cities in the country.

By road:
If you intend to drive to this beach then the ideal starting points would be Thrissur, Alappuzha, Kollam, and Madurai.
Via Thrissur:
There are two routes from Thrissur to this beach, and they are via NH-66 and via Kollam-Kottapuram Waterway and NH-66.
      2. Via Alappuzha:
There are three routes from Alappuzha to this beach, and they are via NH-66, via Killimanoor-Kottarakkara Road and NH-66 and via Killimanoor-Kottarakkara Road.
      3. Via Kollam:
There are three routes from Kollam to this beach, and they are via NH-66, via Kazhakootam-Kilimanoor Road and NH-66, and via Kollam-Ayoor Road and Kazhakootam-Kilimanoor Road.
     4. Via Madurai:
There are three routes from Madurai to this beach, and they are via NH-44, via NH-38, and via NH-744.
By air:
The closest airport is located in Trivandrum. The Trivandrum Airport is well connected to cities in the country as well as to international destinations.
Climate and the best time to visit the Chowara Beach
The climate at this beach during the summer season which begins in March and ends in May is "extremely hot" with the temperature ranging from a maximum of 39 degree Celsius to a minimum of 22 degree Celsius. The rainfall received during the monsoon season which begins in June and ends in September is "heavy". The winter season which begins in October and ends in February is extremely pleasant with the mercury dropping to the 15 degree Celsius during this period. So the ideal time to visit this beach is from October to February.
Things/activities to do
There are a couple of things/activities to do found around this beach worth discovering. They are as follows
Ideal Picnic spot:
The scenic beauty that surrounds this beach makes it an ideal picnicking spot. The beautiful coconut trees only add to the overall charm of this beach.
      2. Ayyappa Temple:
Located in close proximity on a hill top is a temple dedicated to Lord Ayyappa. It is at this temple that a 56 day long festival is celebrated from November 15th to January 15th. every year. This festival is famous and is attended by a large number of ardent devotees.
      3. Pulikudi-Azhimala Shiva Temple:
Yet another temple dedicated to Lord Shiva is located in close proximity to this beach. This temple is renowned for its picturesque surroundings. In addition, it is also surrounded by a number of luxury resorts that provide for ayurvedicpanchakarama treatment.
      4. Analothbhava Matha Church:
An extremely old church called Analothbhava Matha is also located around this beach. Furthermore, regular mass services are provided on Sunday, Monday, and Friday.
Also Read: 10 Popular Beaches in South India
[amazon_link asins='8183221114,9386832070,0340693258' template='ProductGrid' store='beachesofindia-21' marketplace='IN' link_id='937b7afd-e89e-11e8-a6b1-9d9a01b3e29b']