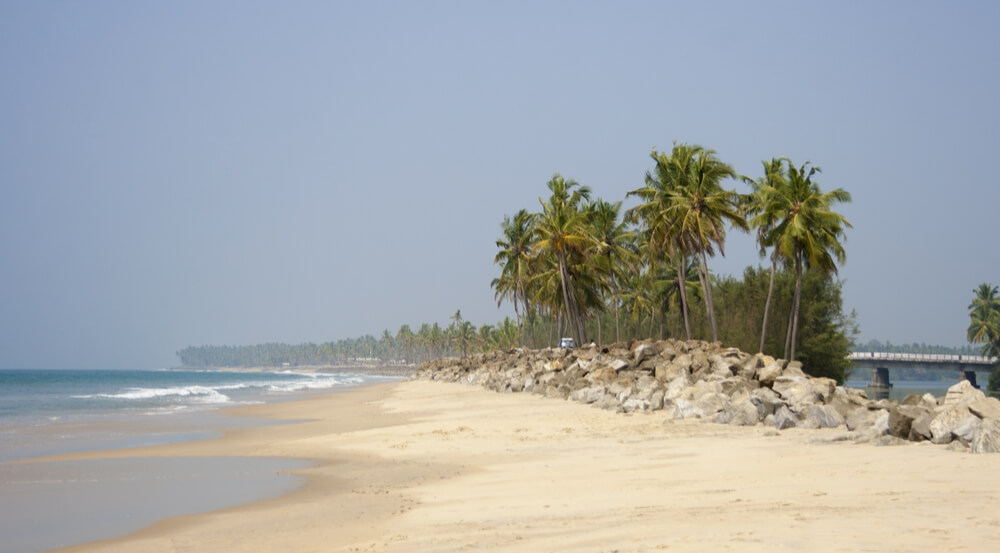 Kappil Beach – Kerala
Located at a distance of 6 km from Bekal Fort in the Kasargod district is a picturesque beach called Kappil Beach. This beautiful beach provides for magnificent view of the Arabian Sea. It is also comprises of golden sand and is surrounded by thick groves of casuarinas. In close proximity to this beach lies a cliff called "Kodi" a major tourist attraction found around this beautiful beach.
Read More: THINGS TO KNOW ABOUT SURFING ON SOUTH INDIAN BEACHES
How to reach the Kappil
By train:
The closest station to this beach is located in Kasaragod at a distance of 16 km. The Kasaragod Railway Station is well connected to major cities in the country.
By road:
If you intend to drive to this beach then the ideal starting points would be Thrissur, Alappuzha, Kollam, and Madurai.
Via Thrissur:
There are two routes from Thrissur to this beach, and they are via NH-544 and NH-66 and via NH-66.
      2. Via Alappuzha:
There is one route from Alappuzha to this beach, and it is via NH-66.
      3. Via Kollam:
There is one route from Kollam to this beach, and it is via NH-66 and Pravur-Chathanoor Road.
     4. Via Madurai:
There are two routes from Madurai to this beach, and it is via NH-744 and NH-183.
By air:
The closest airport is located in Trivandrum. The Trivandrum Airport is well connected to cities in the country as well as to international destinations. 
Climate and the best time to visit Kappil Beach
The climate at this beach during the summer season which begins in March and ends in May is "extremely hot" with the temperature ranging from a maximum of 39 degree Celsius to a minimum of 22 degree Celsius. The rainfall received during the monsoon season which begins in June and ends in September is "heavy". The winter season which begins in October and ends in February is extremely pleasant with the mercury dropping to the 15 degree Celsius during this period. So the ideal time to visit this beach is from October to February.
Things/activities to do
There are couple of things/activities to do found at this beach. They are as follows
Boat Rides:
There are number of mini and medium sized ferry boat services available at this beach. These rides are definitely worth the money spent.
      2. Shopping:
There are a number of shops located in and around the beach that sell various handicraft items at reasonable prices.
      3. Food Stalls:
There are a number of food stalls found around this beach that provide for delicious Indian snacks/delicacies.
      4. Kodi Cliff:
Located in close proximity to this beach is a cliff called Kodi which provides for the magnificent panoramic view of the Arabian Sea.
      5. Palakkunnu Temple:
The Palakkunnu Temple is located in close proximity to this beach and is dedicated to Bhagavathy. In addition, this temple is renowned for its ceremonies and rituals. Furthermore, it is home to idols belonging to ElayaBhagavathi (Saraswathi), MoothaBhagavathi (Durga), Ghantakarnan, Vishnumoorthi, and DhandanDevan.
Also Read: 6 Popular Beaches in East India
[amazon_link asins='8183221114,9386832070,0340693258' template='ProductGrid' store='beachesofindia-21' marketplace='IN' link_id='937b7afd-e89e-11e8-a6b1-9d9a01b3e29b']