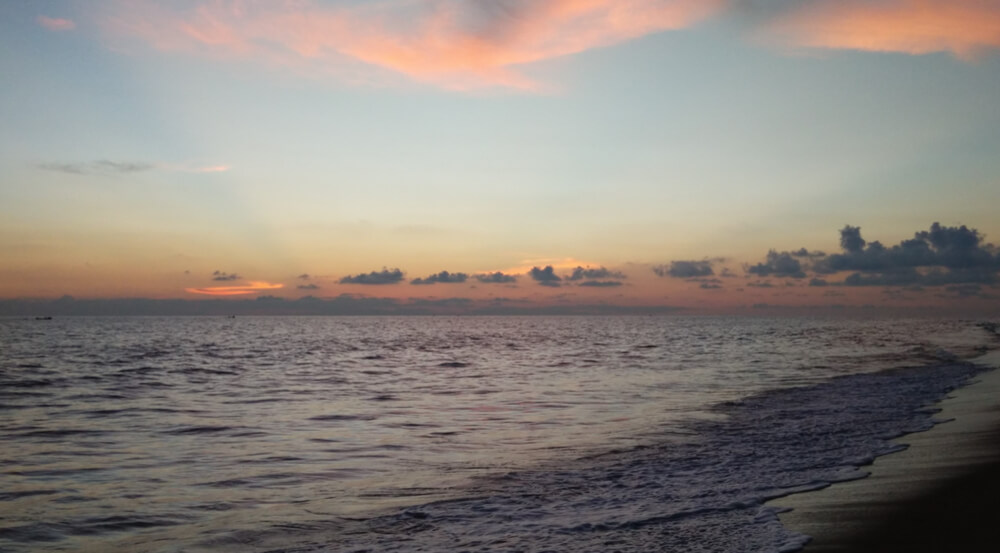 Shankumugham Beach – Kerala
"'Arattukadavu' of Sri Ananthapadmanabhan" is what the extremely scenic Shankumugham Beach located in Kerala has popularly referred to as. This picturesque beach is situated in Thiruvananthapuram (Trivandrum) in close proximity to the airport. It also provides for magnificent views of the "setting sun", and is surrounded by a tranquil filled environment. In addition, situated in close proximity to this beach are a skating school and an indoor sports complex. 
Read More: Top 6 must visit Beaches in Puducherry
How to reach the Shankumugham Beach
By train:
The nearest railway station is located in Thiruvananthapuram itself. The Thiruvananthapuram Railway Station is well connected to major cities in the country.

By road:
If you intend to drive to this beach then the ideal starting points would be Thrissur, Alappuzha, Kollam, and Madurai.
Via Thrissur:
There is one route fromThrissur to this beach, and it includes via Pampady-Pandapally Road.
      2. Via Alappuzha:
There is one route from Alappuzha to this beach, and it includes via NH-66.
      3. Via Kollam:
There is one route from Kollam to this beach, and it includes via NH-66.
      4. Via Madurai:
There are three routes from Madurai to this beach, and they include via NH-44, via NH-744, and via NH-44 and Thiruvananthapuram-Thenmala Road.
By air:
The closest airport is located in Trivandrum. The Trivandrum Airport is well connected to cities in the country as well as international destinations.
Climate and the best time to visit the Shankumugham Beach
The temperature at this beach during the summer season which begins in March and ends in May  ranges from a maximum of 39 degree Celsius to a minimum of 22 degree Celsius. The rainfall received during the monsoon season which begins in June and ends in September is "heavy". The winter season which begins in October and ends in February is extremely pleasant with the mercury dropping to the 15 degree Celsius during this period. So the ideal time to visit this beach is from October to February.
Things/activities to do
There are a number of things/activities to do found around this beach worth exploring. They are as follows
Indoor Sports Complex:
Located in close proximity to this beach is an Indoor Sports Complex that provides for facilities pertaining (indoor) sports such as Badminton and Table Tennis.
      2. The Jawaharlal Nehru Park of Traffic Signs:
In close proximity to this beach lies a park for children named "The Jawaharlal Nehru Park of Traffic Signs". This park essentially helps kids understand the basics of traffic rules as well as provides them with adequatespace to play.
      3. Veli Tourist Village:
The Veli Tourist Village is located in close proximity to this beach, and provides for boating and speed boating facilities. In addition, this village is also an ideal picnic spot and consists of decent restaurants and well-manicured gardens.
Interesting fact
This picturesque beach is surrounded by a couple of well known eateries that include "Star Fish Restaurant" which also provides for an open air theater as well as parking facilities  and the Indian House Coffee.
Also Read: 10 Popular Beaches in South India
[amazon_link asins='8183221114,9386832070,0340693258' template='ProductGrid' store='beachesofindia-21' marketplace='IN' link_id='937b7afd-e89e-11e8-a6b1-9d9a01b3e29b']