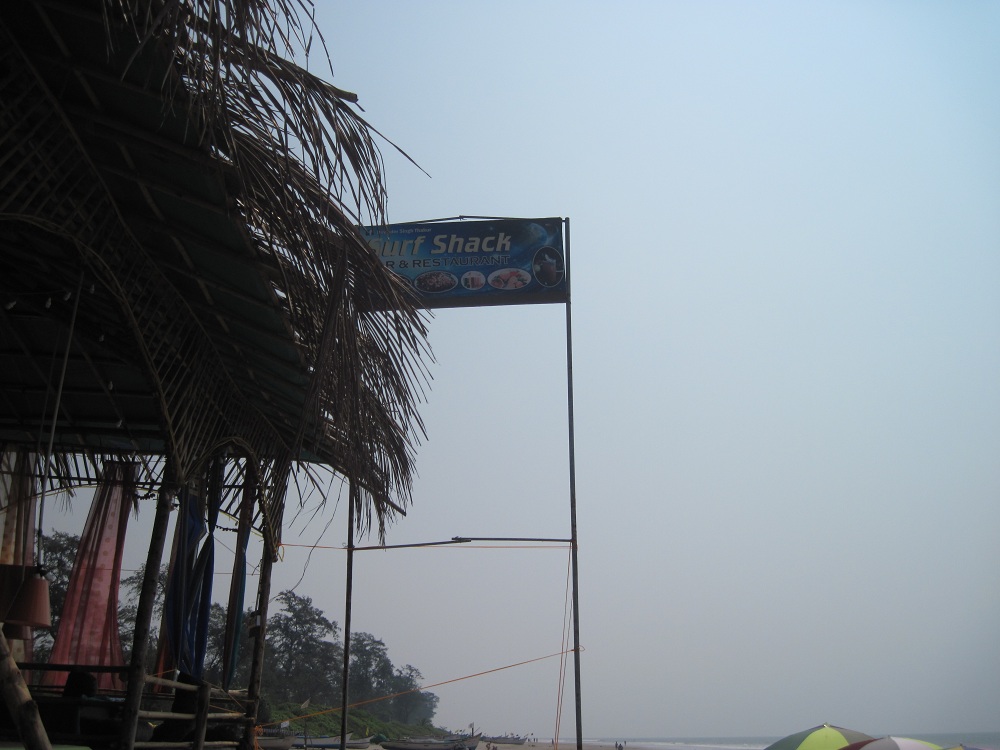 Surf Shack at Arambol Beach
"Sun and Sand is what I like best in Goa" said Roman, a Russian photographer to me while, I was having delicious lunch at "Surf Shack" located on the Arambol Beach. It was when I visited this beautiful beach situated along the Morjim–Ashwem–Mandrem beach stretch in North Goa, that I discovered this shack that provides for a "relaxed" ambiance and delicious seafood. Since it was noon when I arrived over here, I decided to have lunch, and ordered for a fish delicacy and a bottle of Kingfisher strong beer. It was while I was eating this scrumptious lunch that I got chatting to Varun Thakur, a waiter working for this shack. It was during this chat with this young man full of beans that I obtained some very informative facts about this shack. They are as follows:
Read More: GARY, STACY, AND THE CAVELOSSIM BEACH
.
1. The "Food" served at the "Surf Shack" in Arambol Beach and its cost:
"Seafood, Pastas, and Pizzas" are frequently consumed by customers commented Varun on this shack's  popular delicacies . Furthermore, I asked him to name some food items that were renowned, to which he replied "Squid cooked in garlic butter costing Rs 200, mushroom and tuna pasta costing about Rs 210, and Picante Pizza costing Rs 190".  In terms of fish delicacies, Varun states that they provide the customer with the option of selecting the fish they want to consume before cooking it fresh.  He also added "The price of the fish depends on the size". For example, the Tandoor Pompfret Fry that I ate for lunch cost me Rs 400.  As for the other cuisine available at this shack Thakur added "Indian, Continental, Chinese, Israeli, and Tibetan are the other food styles that are available over here".
2. The "Drinks" served at the "Surf Shack" in Arambol Beach and the cost:
With regards to drinks, a wide range of "alcoholic beverages" are served at this shack said Varun to me. He further added "Cocktails, mocktails, beer, whiskey, and vodka are frequently consumed by costumers". When asked about the cost of these drinks, he commented "Cocktail as well as mocktail cost about Rs 200 to Rs 400, and a bottle of beer costing about Rs 70 to Rs 150". In terms of whiskey, he stated that domestic as well as international brands are sold at this shack. The most expensive domestic whiskey being Peter Scot at Rs 110/60 ml while the cheapest being Royal Stag at Rs 80/60 ml. As for international brands, Black and White and Black Dog are extremely popular, and are priced at Rs 200/60 ml. Vodka is yet another alcoholic beverage that is also popular at this shack with Smirnoff priced at Rs 100/60 ml being the most expensive, and White Mischief costing Rs 40/60 ml being the cheapest.
3. The "Breakfast" served at the "Surf Shack" in Arambol Beach and the pricing:
In addition, to the delicious meals (i.e. lunch and dinner) served this shack also provides for "breakfast". According to Varun, there are two types of services that are available at this shack. They are as follows;
a. Indian Breakfast:
This service includes aloo parantha, pickle, lassi, and tea or coffee. It is priced at Rs 160 a plate.
b. English Breakfast:
This service includes fresh juice, fried egg, toast, beacon, tea, or coffee. It cost Rs 270 a plate.
So, as I completed my lunch at this wonderful shack it was time for me to move from the Arambol Beach back to my motel located at Morjim. And so I thanked Varun for graciously providing information about this  wonderful shack, and was immediately on my way out wondering when the next visit to the "Surf Shack " shall happen.
Also Read: HOW SOUTH GOA BEACHES DIFFER FROM THOSE IN NORTH GOA?
[amazon_link asins='8183221114,9386832070,0340693258' template='ProductGrid' store='beachesofindia-21' marketplace='IN' link_id='937b7afd-e89e-11e8-a6b1-9d9a01b3e29b']